It's that time of year when Spoon Graphics gets a little older, with 2016 marking 9 years of tutorial creating, freebie sharing and article writing on what started as a blog that was attached to my portfolio website in 2007. Every April I take some time to reflect over the past 12 months and talk about how things have changed. Last year I talked about some new additions to my site, such as the email newsletter and my video tutorials YouTube channel. Those areas have grown massively since then, so let's take a look at what's new.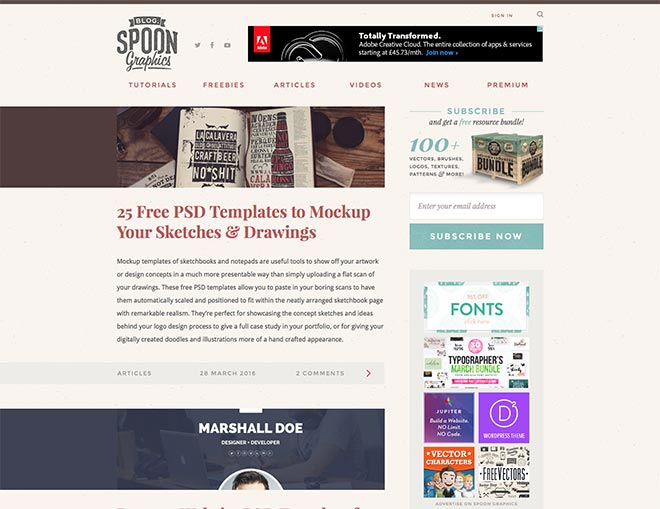 I always start these anniversary posts with links to my previous yearly celebrations. It's interesting to go back and see how my blog has progressed:
The Growth was Incredible This Year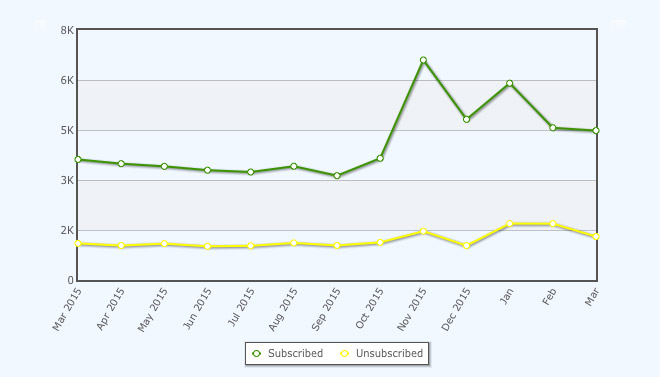 The biggest change to Spoon Graphics this year was the whole new look that I released in November 2015. I have a dedicated post that documents the changes, but it has definitely proved to be effective when looking at the newsletter sign up stats. Previously I saw around 3-4k new subscribers per month, but that spiked to 7k immediately after the new design went live.
My Spoon Graphics YouTube Channel has also grown dramatically over the past year. In the last anniversary post my channel had just 5 videos and 1,200 subscribers. It's now fast approaching 40,000 subscribers, almost 1.5 million views across 30 videos, with the most popular upload reaching 825,412 views thanks to a great search results position under the keyword 'Photoshop tutorials'. Many of these videos have gone on to attract a much larger audience beyond the subscribers of my main Spoon Graphics website, so it has been a great tool to help spread the word about my content.
Subscribe to the Spoon Graphics YouTube Channel
Average Stats of Late
Average visits per day: 22,000 (down 12% from 2015)
Top Content: 15 Free PSD Templates to Mockup Your T-Shirt Designs (2014) & 20 Free PSD Templates to Mockup Your Poster Designs (2014)
Email Subscribers: 93,016 (up 343% from 2015)
Highest Traffic Peak: Tuesday November 11th 2014 – 44,592 visitors (How To Create a Realistic Painted Effect in Photoshop)
A couple of years ago I was a little worried when my traffic dropped for the first time, but it picked up again the year after so this year's drop of 12% doesn't bother me too much. It also becomes less apparent depending on how large the sample is, with it showing just a 1% drop if I factor in the full year.
My most visited piece of content is still the roundup of t-shirt mockup templates, although second place has changed from a roundup of print design mockups to a roundup of poster design mockups. Either way, it further proves how popular those PSD mockup template roundup posts have been. Let's see if my most recent from last week, 25 Free PSD Templates to Mockup Your Sketches & Drawings will make it into a future top spot.
As I previously mentioned, my mailing list has continued to grow nicely, especially after my recent design tweaks that highlight the subscription forms more prominently. I cited 130 daily new subscribers last year, that figure now averages at around 200.
Technical stats
Powered by: WordPress
Hosted on: 4GB VPS
Server location: Dallas (SoftLayer)
Monthly bandwidth: 7.9TB
There has been no change in my server setup lately. Everything has been running fine, with just an increase to almost 8TB per month bandwidth as more freebies and bundles have been downloaded. The email newsletter service is now by far my largest expense, costing over $700 per month, on top of hosting bills of around $400-500. Thankfully ad revenue has been consistent, Access All Areas memberships have continued to increase and my readers have been snapping up the great design deals I've spread the word about in my newsletters, which all help me continue to share my tutorials and resources for free. Thank you for all your support!
One More Thing…
I always like to round off these birthday/anniversary posts with an update from my personal life, whether it's getting married in 2013 or the arrival of our baby girl in 2014. At the time of writing this post we've just had an offer accepted on a new family home, although it's probably too early to share in detail. If you are interested in finding out more, I now have a personal channel on YouTube where I share vlogs and videos about the stuff I get up to when I'm not sat at my computer.