Happy Birthday everyone! April marks that time of year when I celebrate another year of running this blog and take a look back at what has changed over time. Seven years have now ticked by since I started this site in April of 2007. I was a little worried after writing up last year's 6 year anniversary post because soon after Google Reader was due to be retired, which was the tool 75% of my readers used to browse my content. Thankfully I survived the apocalypse and my blog is doing better than ever! Let's take a look behind the scenes and see what's new this year.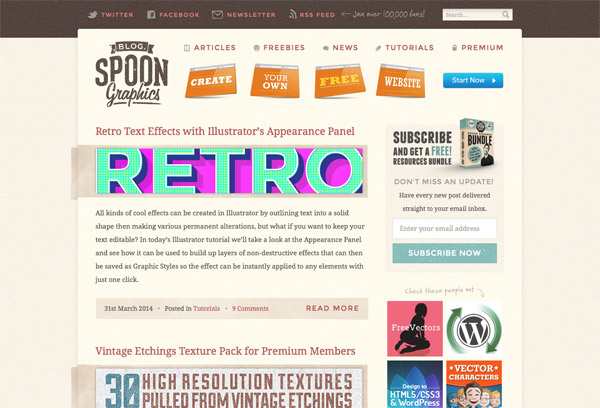 I always start these anniversary posts with links to my previous yearly celebrations. It's always interesting to go back and see how my blog has progressed and how I described my experiences:
Surviving the apocalypse
I guess the main cause for celebration is that my blog is still managing to bring in viewers despite the drama that led me to believe that my traffic was going to drop by half due to Google Reader's demise. I began prepping for the apocalypse this time last year by setting up an email newsletter. I always thought these things were a little old fashioned and that RSS was surely the new fangled way to ping your readers about new content, but I knew many Internet marketers were making a killing from their email list and that every well known blogger always cites that they wish they had started building their list earlier.
I knew that only a fraction of the 45,000 Google Reader users who subscribed to my blog would take the time to resubscribe with an alternative tool, so I needed to begin building a fresh audience of email subscribers. I selected AWeber as my email service of choice and began configuring my lists. Thankfully I had a head start with the collection of emails that were currently receiving my RSS-to-Email broadcasts via Feedburner. I actually documented the process of migrating as a post over on Line25, check out my guide titled How to Move From Feedburner to a Newsletter Service if you're interested.
Like before, but better!
Thanks to some great advice from my buddy Tom Ross I soon realised that email newsletters offer so many more benefits than RSS. I started out using my mailing list as a direct replacement to RSS, simply sending out the entire post to subscribers, but Tom helped me realise that spending some extra time crafting a complementary email can really help drive additional traffic to your content. Then there was the whole idea of incentives to drastically grow your subscriber base. Rather than hope that people subscribed after finding my posts, I now offer a free design bundle for every subscriber, which increased my subscriber rate by 10x overnight!
My email list is now upwards of 20,000 active subscribers and growing by over 100 new subs every day! My blog is now seeing its most active readership ever and email has also opened up an extra form of communication with my readers. It's great to see people hit the reply button and send their thoughts directly back to me.
Design & content tweaks
Over recent months I've also been making some tweaks to the design and layout of my site. Some areas, such as the About page had been neglected for years, but there's now a drive to funnel new users to browse all the content I have on offer within the 7 years of archives.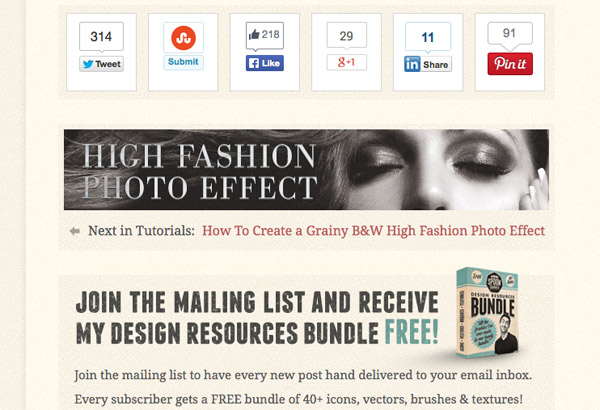 At the botton of each page the related posts list has now been condensed into a single link to the previous post in the category, accompanied by the header image to grab your attention. Rather than a post being a one-hit wonder the idea is that new users will explore back through previous posts.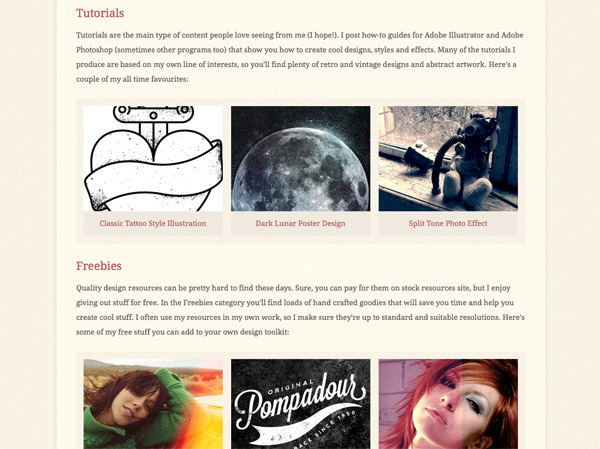 Driving traffic to older content is also the new role of the About page. Rather than being my boring life story, it now introduces what kind of content you can expect to find here on Blog.SpoonGraphics with links off to my most popular content from each category. There's also a big focus on subscribing, with these forms being amongst the most successful at recruiting new readers.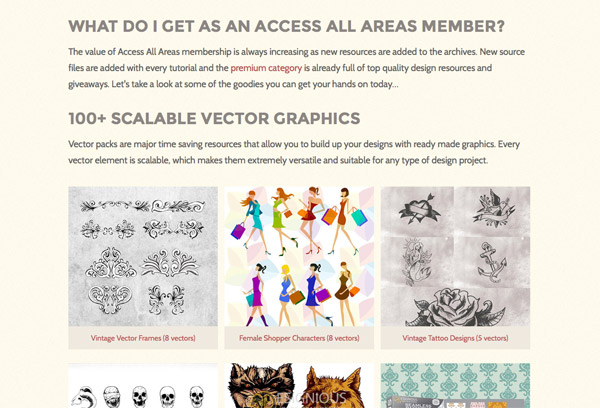 The Access All Areas page has also been revamped. It now clearly shows the insane value of membership by listing out all the amazing premium resources members can get their hands on. I've also been working with some talented designers to arrange some awesome content for members going into the future.
Average stats of late
Average visits per day: 23,000 (down 15% from 2013)
Top Content: 50 Illustrator Tutorials Every Designer Should See (2009) & 25 Free PSD Templates to Mockup Your Print Designs (2013)
RSS Subscribers: Who knows?! Feedburner is broken these days. Feedly suggests 10K+ readers use their app.
Email Subscribers: 20,950 (new!)
Highest Traffic Peak: Thursday March 7th 2013 – 36,635 visitors (How To Make a Cool Cinemagraph Image in Photoshop)
It's a shame to see my daily visitors figure drop for the first time since my blog's launch. Every year since 2007 I've seen the daily average increase by a few thousand, but this time it has dropped significantly. Maybe the retirement of Google Reader did affect things, or maybe Google's change of algorithms has cleaned up some of my older content from search results. I'd otherwise be a little disappointed about this, but over the past year I've definitely noticed an increase in community interaction with posts receiving way more comments and feedback than over previous years. I'm sure this is related to the new audience my email newsletter has helped build.
The highest traffic peak goes unchallenged this year. The closest was 31,499 on Nov 25th when an surprising influx of traffic came from Facebook to my 25 Free PSD Templates to Mockup Your Print Designs post, almost a month after it was published.
Technical stats
Powered by: WordPress
Hosted on: 4GB VPS
Server location: Chicago (Rackspace)
Monthly bandwidth: 1.9TB
My server admin buddy @davidsilburn has been working hard keeping everything in order behind the scenes. Hiring him has been the best thing I've ever done for my blog's health, over the past year he's investigated all kinds of little bugs as well as hardened my site after a hack attempt and fine tuned the server for stability.