It's that time of year again! Every April I create a blog post to celebrate the growth of my little blog and share recent statistics and behind the scenes updates to share my experiences running this site with all my loyal readers and subscribers. Looking back at 2012's post there's been some big changes to keep things up to date…
Feeling nostalgic? Take a look at some of the previous anniversary posts:
A new look
The first big change you may have noticed over the last year is the complete overhaul of my site's appearance. I talked about the redesign in more detail back in the complete overview post. I had the urge to rebuild the site for a number of years and after trying out loads of different concepts I found a happy place continuing the beige/brown theme but freshening it up with a new logo and layout.
Coinciding with the new design was the addition of the large banner ad at the top of the page. Considering I now run this site (along with my other ventures) as my full time job the extra income this banner alone generates is extremely useful and thanks to this slot being filled from just a few days after it was created my revenue has seen a healthy increase. When I look at some other design blogs I notice there's plenty more revenue that could be had from various large sidebar banners and popup windows but I've always wanted to stay under the threshold of ad intrusiveness. Hopefully my small series of sidebar banners, this header banner and the content banner that only appears on old posts keeps me under this threshold.
Average stats of late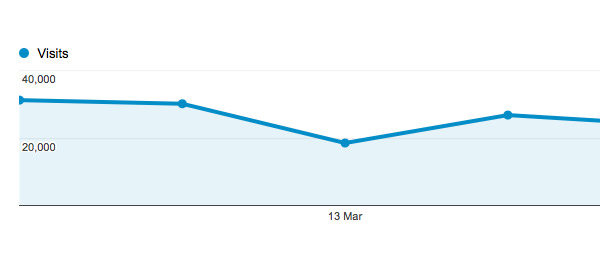 Average visits per day: 27,000 (up 4% from 2012)
Top Content: 50 Illustrator Tutorials Every Designer Should See (2009) & 10 Photoshop Actions to Create Instagram Style Effects (2011)
RSS Subscribers: 58,675 (up 1.5k from 2012)
Highest Traffic Peak: NEW RECORD! Thursday March 7th 2013 – 36,635 visitors (How To Make a Cool Cinemagraph Image in Photoshop)
It was difficult collecting data and comparing it to previous years now Google Analytics has been revamped and all the useful features removed, but it looks like traffic is still on the steady increase. It actually amazed me that I'd broken my all time traffic record, previously a photo effect tutorial from 2010 had top spot.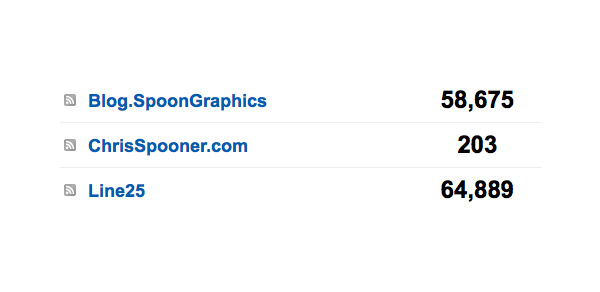 RSS subscriber stats seem to have increased again after the dip last year, but considering the impending doom of Google Reader it will be interesting to see how this compares next year, that's if Google don't also ditch Feedburner! 45,000 of my almost 60,000 blog subscribers use Google Reader, so if you're one of them, now might be a good time to switch over to Feedly!
Technical stats
Powered by: WordPress
Hosted on: 2GB VPS
Server location: Chicago (Rackspace)
Thanks to my server admin buddy @davidsilburn my server setup has been given a complete overhaul too. Slicehost was acquired by Rackspace over the last year, which resulted in a big increase in my monthly bills. I took this opportunity to hire David to spring clean my server setup, optimise and bring everything up to date. It was definitely needed, the OS version my system was running on was prehistoric!
We're now trying out a downgrade to a single 2GB server, seeing as since some recent optimisation the sites were only using 20% of the server resources.
One more thing…
It's not exactly blogging related but Laura and I recently got married. We're currently on our honeymoon doing a self-drive road trip from Las Vegas to Yosemite to San Francisco to LA. If you want to see our photos and videos from the trip keep an eye on my personal blog www.chrisspooner.com.