My friend and talented typographer Tom Chalky is currently running a mega bundle of all his hand crafted fonts, along with over 200 high quality textures and Photoshop Brushes. 88 fonts for 88% off is the original deal, but I've managed to persuade him to provide an additional 40% discount for Spoon Graphics readers, bumping the price cut to 93% off! This allows you to get everything you see for $41 (88 fonts, 200+ textures & extras) or all 88 fonts alone for $35. Alternatively, you're welcome to grab his small bundle of 7 fonts and 20 textures as a free gift!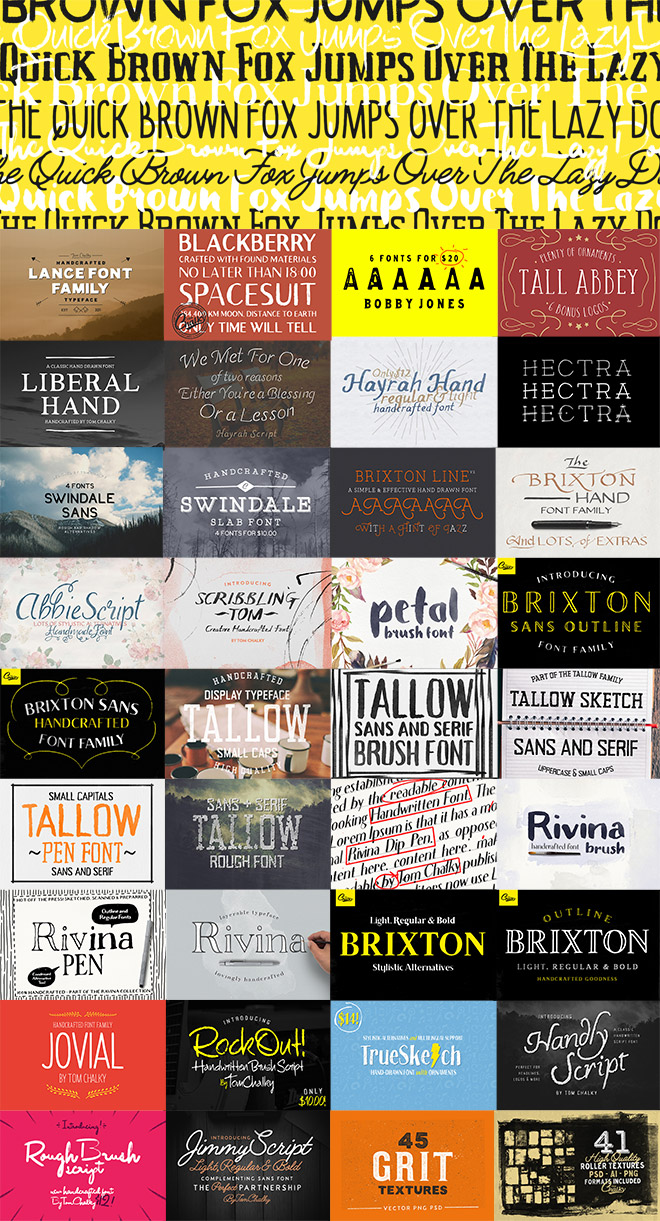 Tom has a passion for hand lettering and enjoys creating beautiful typefaces in various styles with pens and brushes. Each family comes with multiple font to combine different font weights or to give the option between serif and sans-serif styles. All these fonts can be acquired for $35, or you can also grab them along with a bunch of grit textures, paint roller textures and watercolour brushes for $41 using the code SPOONGRAPHICS40.
Jimmy Font Duo
Rough Brush Script

Handly Classic Script
True Sketch

Rock Out Script
Jovial Font Family
Tallow Font Family

Tallow Brush

Tallow Sketch

Tallow Pen
Tallow Rough

Rivina Dip Pen
Rivina Brush

Rivina Pen Font Family
Rivina
Brixton

Brixton Outline

Brixton Sans

Brixton Sans Outline
Petal Brush
Scribbling Tom
Abbie Script

Brixton Hand
Brixon Line Pro

Swindale

Swindale Sans

Hectra Font Family

Hayrah Hand Script
Hayrah Script

Liberal Sans
Tall Abbey Sans and Serif

Bobby Jones Font Family

Avera Sans Family
Lance Sans and Serif

45 Heavy and Subtle Grit Textures
41 Roller Paint Textures
69 Watercolour Brushes

75 Watercolour Brushes Vol.2
40% Discount for Spoon Graphics Readers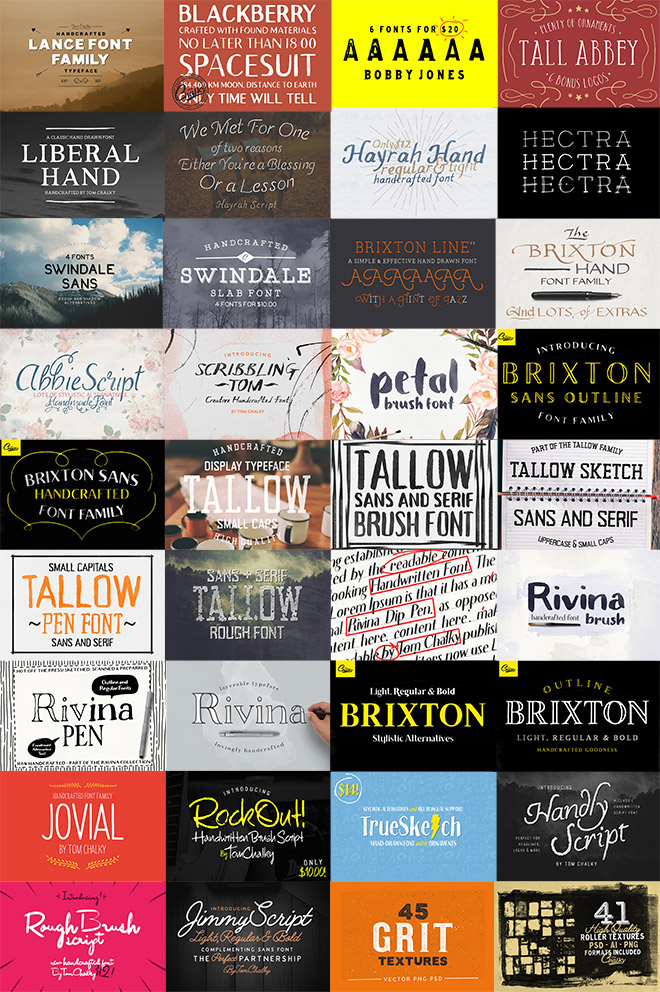 Tom's original offer was great value for money, but the additional 40% discount code he has supplied for Spoon Graphics readers really sweetens the deal! Make your choice between full package of fonts and textures, just the font bundle, or a totally free collection of 7 fonts and 20 textures. Remember to add the SPOONGRAPHICS40 discount to the cart during checkout to apply the extra 40% discount.