It's that time of year when Spoon Graphics gets a little older, with 2021 marking 14 years of tutorial creating, freebie sharing and article writing on what started as a blog that was attached to my portfolio website in 2007. Every April I take some time to reflect on the past 12 months and talk about how things have changed. Last year I talked about how my subscriber counts were growing well despite plummeting traffic levels, so let's take a look at the latest stats and figures and see how things are going another year on.
I always start these anniversary posts with links to my previous yearly celebrations. It's interesting to go back and see how my blog has evolved:
Spoon Graphics Traffic Stats
Traffic change: -6%
Top Content: 25 Adobe Illustrator Brush Sets You Can Download For Free (2016) & 8 Free Stipple Shading Brushes for Adobe Illustrator (2015) (NEW)
Email Subscribers: 220,884 (up 16% from 2020)
YouTube Channel Subscribers: 409,183 (up 23% from 2020)
Highest Traffic Peak (This Year): Tuesday April 27th 2020 – 32,403 visitors (20 Free Old Paper Textures with Creases, Folds and Stains)
Highest Traffic Peak (All Time): Tuesday November 11th 2014 – 44,592 visitors (How To Create a Realistic Painted Effect in Photoshop)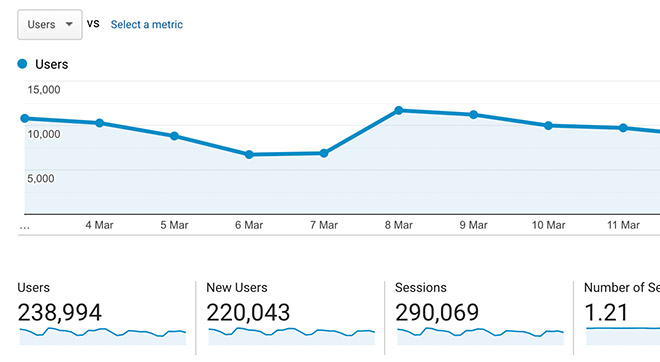 While traffic levels are still down after the huge drop in 23% drop 2019-2020, it at least seems to have plateaued with just a further 6% decline over the past year! With that said, it's still great to see email subscribers and YouTube subscribers continue to increase at a good rate. Interestingly, my second-most popular piece of content has changed again this year. Usually, roundups of free resources are what tend to bring in the most Google search traffic, but my old Illustrator Stipple Shading Brushes download has replaced a T-Shirt Mockups roundup on the popular posts leaderboard.
Over at Youtube, view figures are ticking along with no exciting spikes in traffic, but that still totals an impressive 5.2 million views across all my video content. I have been focusing on funnelling YouTube viewers to my Spoon Graphics mailing list. Creating a dedicated landing page that features all the freebies available to on Spoon Graphics has really helped to grow my list further. The subscribe form on that page has a conversion rate of almost 25%, much higher than the popup that prompts users to subscribe when they download a free resource.
Technical stats
Powered by: WordPress
Hosted on: Bare Metal Server
Server location: Dallas
Monthly bandwidth: 15TB
Average running costs: $2070 per month (up 10% from 2020)
Last year I talked about the server upgrade to a Bare Metal Server with a 20GB bandwidth allocation, which helped to eliminate the overage charges from my bills. It looks like that has helped ease the monthly running costs with just a 10% increase in costs this year. Periodic spring cleans of my mailing list to delete inactive subscribers also helps to avoid paying more than I have to!
One more thing…
I used to finish off these anniversary posts with an update from my personal life–such as our wedding in 2013, the birth of our daughter in 2014, and moving into our dream home in 2016–but nothing particularly exciting had happened since! That all changed this week with the arrival of my baby boy, Lincoln Spooner. I'm the luckiest man alive!