I've featured what I've always called 'Geometric Photo Collages' on my site numerous times before in inspiration showcases and tutorials. It turns out they're actually known as Polyscapes in the design community, which is a fitting name considering they're a combination of polygon shapes and landscape or cityscape photographs. I always have fun creating these images, so I jumped at the opportunity to produce a fresh tutorial on the topic. In today's step by step guide I'll take you through the process of creating an abstract polyscape in Adobe Photoshop. The final effect is achieved with just a few simple techniques, so hopefully this will be a great one for beginners to experiment with.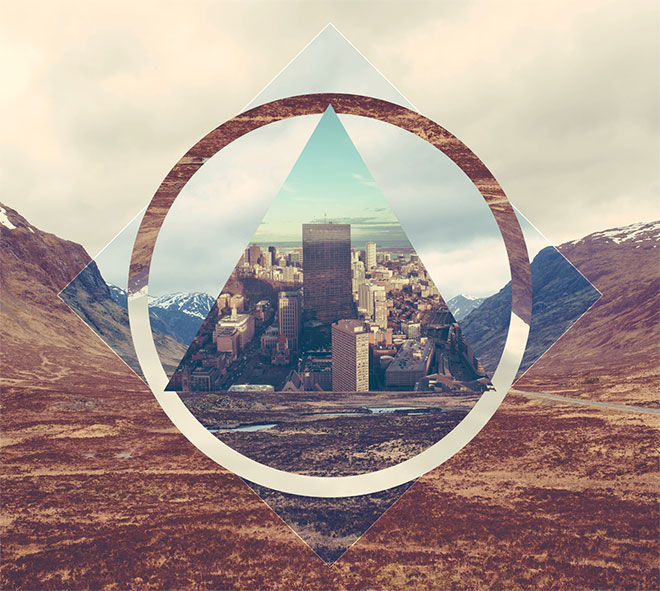 The image I'll be creating as part of this tutorial combines the photographs of rural Lochearnhead and a contrasting cityscape. Polyscapes often make use of beautiful landscape images, or even pictures from outer space. These photos are then cut and pasted into a digital collage, using Photoshop's editing tools rather than scissors and glue. The addition of geometric shapes add an abstract element to the artwork, I'm using a mix of squares, circles and triangles. Follow these steps to recreate this design, or experiment with different assets to achieve a unique result every time!
Begin by finding a base photograph to work with. I used the wonderful Unsplash.com to find this landscape photograph of Lochearnhead by Drew Collins. Open the image in Photoshop and centre two guides on the screen. The method I prefer is to Select All (CMD+A, or CTRL+A on Windows), right click and select Transform Selection, then drag out guides from the rulers and snap them into place onto the selection handles.