It's all me, me, me this week in terms of my web roundups! With recently making the transition to freelancing on a fulltime basis I've not quite had time to document my interesting findings on the web (in other words I forgot to save them!). However I've been a busy bee in other areas so here's a roundup of shameless self promotion!
BrianYerkes.com
I had the pleasure of answering a few questions and being featured alongside David Airey and Jacob Cass in a recent post of Brian Yerkes; 3 Questions for 3 Top Design Bloggers & Productivity Tips.
The post starts with some cracking tips on getting the most out of your daily design life, including creating to-do lists, removing distractions and taking breaks, and then goes on to related discussions with myself, David and Jacob.
VECTORTUTS
I recently joined the VECTORTUTS team as a weekly article writer, with my highlights so far being a couple of inspirational roundups based on vector goodness. The first, 50+ High Impact Illustrated Vector Posters saw a collection of super cool poster designs from talented designers and illustrators from across the world, showcasing quite a range of styles and techniques. The second, 70 Cute and Cheeky Vector Animal Characters concentrates on the topic of vector character illustration and presents a roundup of amusing designs. It has been great to see both posts getting good results on DIGG, stay tuned on VECTORTUTS for upcoming articles!
ChrisSpooner.com
Something I've been wanting to play with for a while was creating my own social homepage after reading a number of articles on the subject from Chris Coyier, Jon Phillips and Collis Ta'eed. The idea is to present information of yourself from social networking and social bookmarking websites in a self-updating format, also known as life-streams.
I cunningly set out my plans and created tutorials on the two main aspects of my idea, Create a Blissful Vector Scene and Create a Cute Vector Monster from a Pencil Sketch. This meant not only have I filled a gap on Blog.SpoonGraphics in terms of tutorial posts, but also created my homepage design at the same time – sneaky hey!
I then continued to put together the site, with particular credit to the Weather Switcher from CSS-Tricks. The ChrisSpooner.com site also uses javascript from Twitter and two WordPress plugins named RSS Import and iLastFM. The result is a little overview of my online life, with automatically updating content from my Twitter chats, StumbleUpon web browsing, Last.fm music discoveries and even the local weather – much to Mushie the Monster's pleasure or discomfort. (Thanks to Alex for the name suggestion).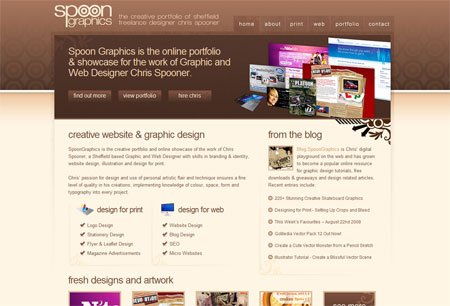 SpoonGraphics
With a two year old SpoonGraphics website design it was certainly due for a change, I recently put together a refreshing design together tailored more towards the services I offer as a graphic and website designer. Feel free to have a poke around, and of course if you would like to hire me for any design related projects, feel free to get in touch!