Just when you think you have enough fonts in your collection, along comes an irresistible deal that persuades you to make room for some more! I'm still enjoying playing with my new fonts from the Artistic Fonts Bundle I featured back in June, but this latest offer from Design Cuts really caught my attention with the focus on retro and vintage style typefaces. The new Inspirational Creative Font Collection includes 12 best-selling fonts, with extra elements and extended licensing at 92% off. How can you say "no" to that?!
Unfortunately this deal has now expired
Join the mailing list to be the first to hear about awesome offers like this in the future!
This latest offer from Design Cuts features a bunch of lovely fonts. There's a nice mix of retro display fonts, detailed ink print fonts, dirty brush fonts and cute hand drawn fonts. Many of them come with some special bonus items too, which I think really adds to the value of this collection and turns it into an all-in-one design kit. As always, here's a look at my favourite items:
Lulo font (not available anywhere else!)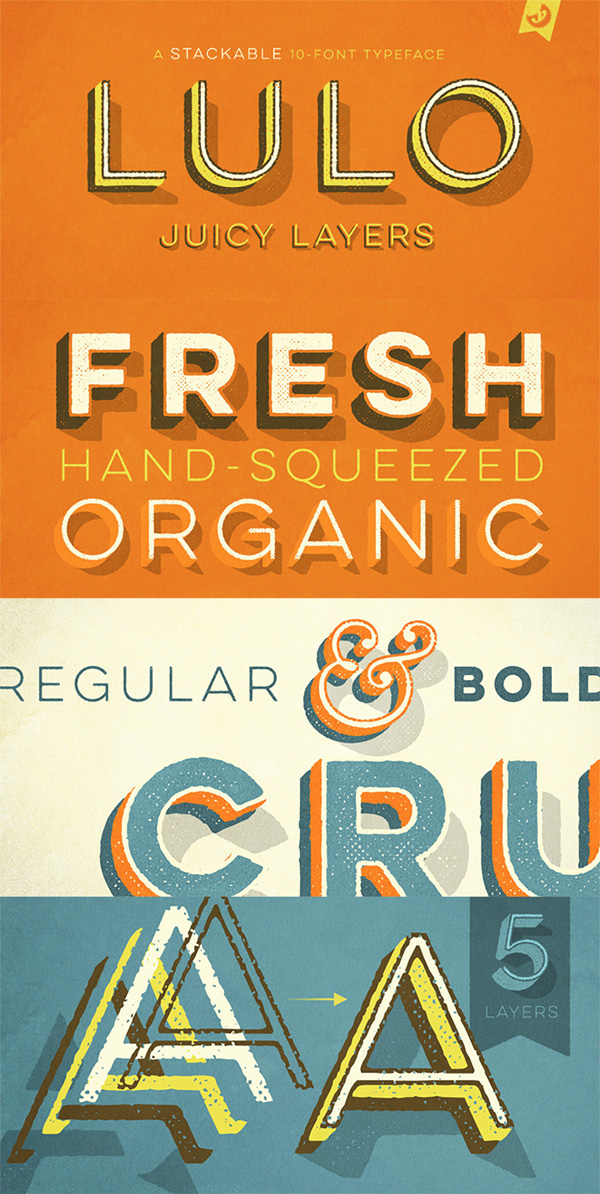 The stand out item from the whole collection is the new Lulo font from Yellow Design Studio. This font is being launched exclusively as part of this bundle, then once the deal is over it will be selling at its full price of $49. By grabbing it now, you'll not only own it before anyone else, but you will also get it at a vast discount, as well owning the other 11 creative fonts in this collection.
Alpha Rough font (+ extra graphics!)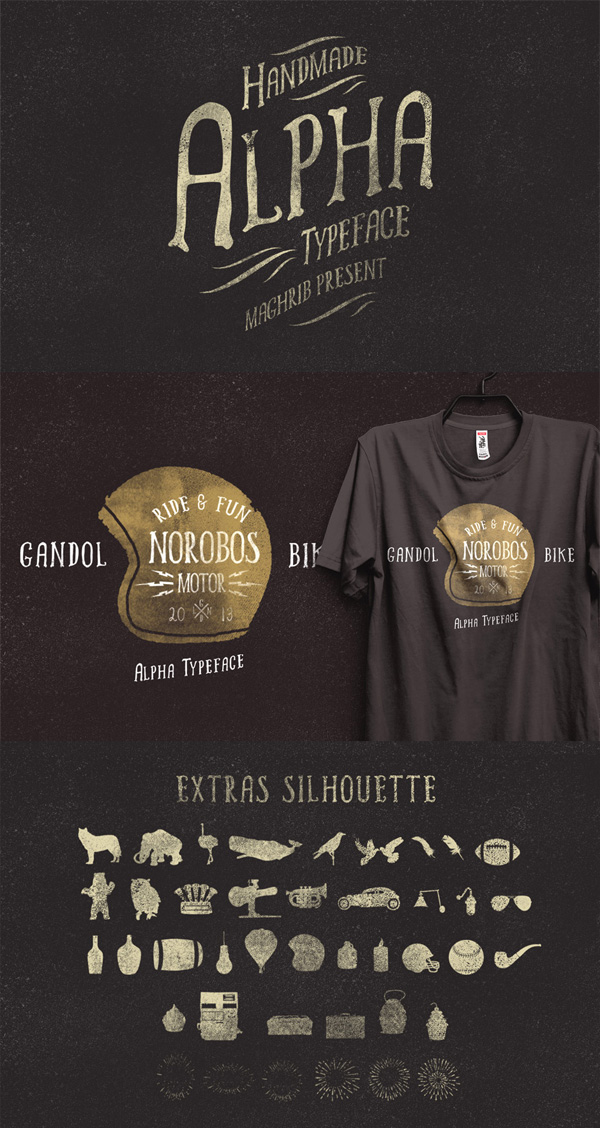 The Alpha font from Maghrib looks just like the the awesome lettering illustrations by BMD Design. Use it along with my tutorial on how to create typography illustrations the easy way to produce some beautiful artwork of your own! This font even comes with ready made silhouettes and a grunge Photoshop Action so you'll have all the tools you need ready to go.
Bowney Marowney (+ bonus textures!)
Bowney Marowney is actually two fonts in one! Bowney is an authentic hand crafted rough brush font that was originally created using a cigarette filter dipped in ink. Its partner in crime, Marowney, is a thin handmade ink stroke made from marker pens on old paper so the edges are blurry. The two fonts perfectly complement each other so they're a great pair to use on headlines and taglines. Bundled with this item is the best selling Rebel Edges pack, a collection of 32 rough edges textures for distressing your artwork.
Hundreds of Glyphs & Multiple Languages
The great feature about all the fonts included in this bundle is they're clearly premium quality products. They really set themselves apart from the free fonts you find on the web by boasting perfect kerning, hundreds of character glyphs and multiple language support. When you consider that any one of them usually sells for more than the whole bundle it really makes it exceedingly good value. Throw in full extended licenses and web versions for each font and it's almost stealing!
This is a limited time offer so be sure to grab it while you can. I've heard from loads of my readers in the past who missed out on previous deals because they left it too late!