My most popular tutorial of 2014 was my guide to creating a realistic money effect in Photoshop, which explained the steps to achieve an authentic engraved illustration style. The process is quite time consuming, so I figured it would be useful to follow it up with a ready made Photoshop Action that produces the effect automatically with just the click of a button. Choose from 3 levels of detail for your image, then the Action will transform your photo into a realistic engraved illustration.

This free Photoshop Action transforms your photographs into realistic engraved illustrations with the click of a button, allowing you to easily create money or wood cut style effects. An unwanted moire effect has appeared on these scaled down preview images, but at 100% scale you can see the fine detail of the engraving lines that build up the illustration with multiple tonal layers. If you want to experiment with this effect yourself, don't forget to check out my original money effect Photoshop tutorial.
How to use the Engraved Effect Action
The download package contains the Photoshop .atn Action file and a .pat Pattern file. Load the Patterns first of all so the series of Engraving Patterns are available for the Action to use.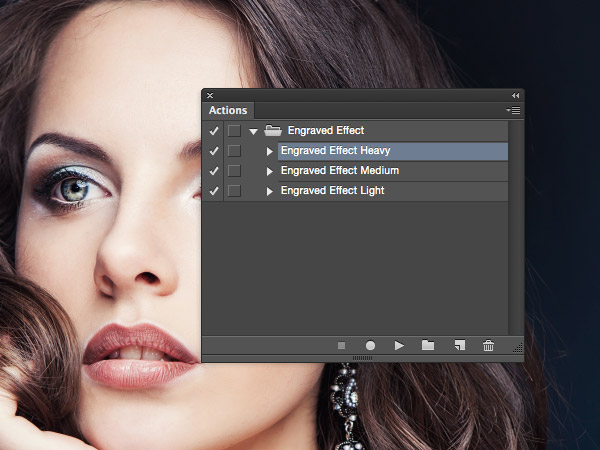 Make sure your image is contained on the Background layer, then choose one of the three levels of detail from the Engraved Effect Action. Press the Play button at the bottom of the Actions panel to apply the effect.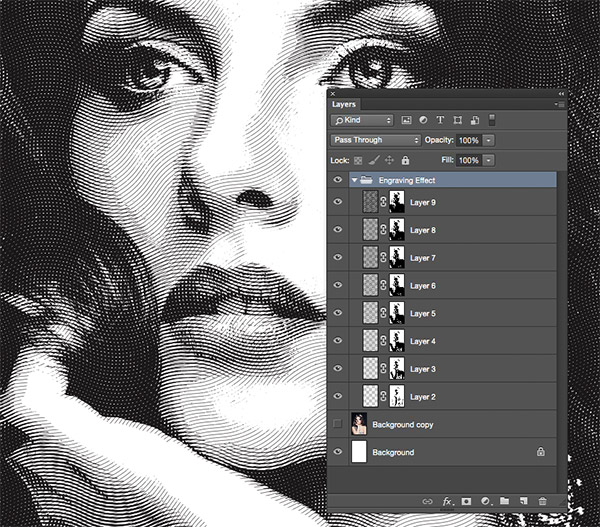 The engraved effect layers are neatly contained within a layer group. Unlink the layers with their masks in order to scale the group down in size to produce a more detailed pattern effect.
Download the Engraved Effect Photoshop Action 1mb
Want more? Check out these great related products
The following resources cost a little money, but I definitely recommend checking these related products out to complement my Engraved Effect Action.