While I'm no pro videographer I do enjoy creating videos of my adventures on an amateur level. Recently I've been editing loads of footage from our road trip honeymoon in the USA, so I thought I'd share some of the techniques I've developed in Adobe Premiere to create cool vintage or retro style video effects. In this tutorial I'll show you how I created an old style discoloured effect with film burns.
Adobe Premiere vs Final Cut Pro
When I first got started editing video on my Mac I used Final Cut Express, but I found the application pretty difficult to learn (plus it never seemed to support my footage!). I soon migrated over to Adobe Premiere and found it much easier to use, with many of the effects and tools having similar menu locations and names to those we're all familiar with in Photoshop. While this tutorial is based on Adobe Premiere the same effects can be created in Final Cut Pro (or even Express), you'll just need to dig through the menus to find the correct settings. For instance, Photoshop style blending modes appear under the Opacity menu in Premiere, but they're known as Composite Modes in Final Cut.
How to Create Vintage Video Effects
So let's get started with some vintage effects. To begin you'll need to compose your clips to create your basic video sequence. In today's example I'm using my GoPro footage from a horse riding session across the desert at Furnace Creek Ranch in Death Valley. My video takes on a Western theme so old vintage effects will set the scene and give it more authenticity.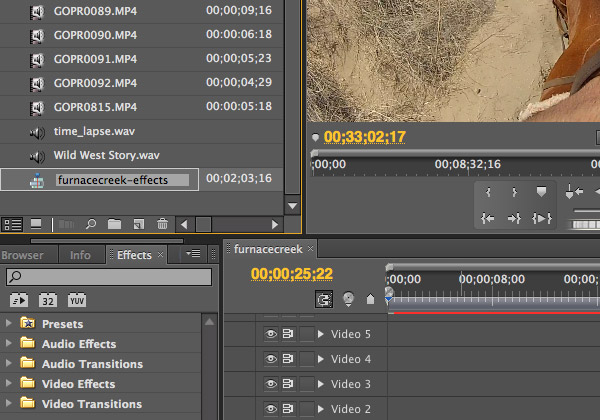 Video effects can be added to each clip individually, but it then becomes a painstaking task to make minor adjustments when each tweak has to be made numerous times. Create a duplicate of your sequence by dragging it over the "New Sequence" icon then add the word effects to its name. We can add the various adjustments to this single block of footage while still allowing for edits to the original composition.