Coming up in my roundup of random links for this week is some typographic content from Jon Tan and Spoonfed Design, an interesting web design article from Redswish and fabulous roundups of freebies from Six Revisions and VECTORTUTS.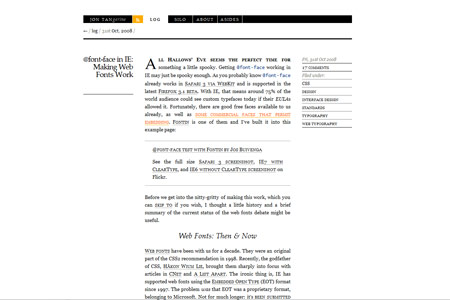 Jon Tan
With CSS image replacement, SiFR and FLiR being common techniques in presenting out of the ordinary typefaces on the web, I'm particularly looking forward to seeing wider support for the @font-face CSS property. Jon Tan has an awesome and detailed article on his blog, JonTangerine.com outlining both the history and implementation of @font-face which at the moment is perfectly viewable in Safari and the beta version of Firefox 3.1 (and even IE with some fannying around!).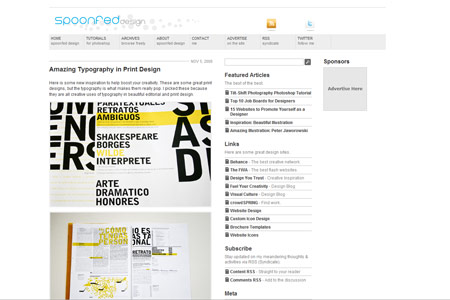 Spoonfed Design
Continuing with the typographic theme, print design has never had the issues faced by the web when it comes to typography. This roundup of inspiration from Spoonfed Design proves this with a collection of beautiful editorial and print designs making use of creative typeography.
Redswish
Redswish, the web design blog of Nathan Beck has a great article on the topic of Designing with Data, which gives some great tips on using statistics and data to optimise the design of a website. In Nathan's example he explains the process he and fellow colleagues used when redesigning the Parkdean Holidays website, making the site much more usable and navigateable.
Six Revisions
It's always a pain finding elements and resources to use in your website designs, luckily Jacob Gube from Six Revisions recently posted an extensive roundup of beautiful free icon sets. In the post are 40 collections of icon sets, featuring a combined total of over 3000 individual icons.
VECTORTUTS
Talking of roundups, one of my recent articles over at VECTORTUTS was a roundup of 60 free vector graphics for digital art pros, featuring the best free vector resources from across the web. The post saw some great responses on Digg so stay tuned for a follow-up post of similar proportions!