In this week's roundup of interesting links from across the web we have some creative brochure designs, a collection of sites with beautiful character illustrations, a very cool Illustrator tutorial, a guide to using icons in web design and five logo redesigns that caused the most outrage.
Graphic Fetish
Roundups of inspiring print designs are quite uncommon, but when they do appear on design blogs they often display some cracking examples of creative design. This post of 18 Wickedly Creative Brochure Designs from Graphic Fetish showcases unique designs that play with folds, die-cutting and vibrant print effects.
Dezigner Folio
You're probably aware of my soft spot for cool little character designs, this article from Dezigner Folio was right up my street. The post titled 20 Sites with Beautiful Character Illustrations picks out some of the best mascots and cartoon characters from sites across the web.
Trans Fuchsian
This Tutorial for Colourful Lighting Effects in Illustrator from the Trans Fuchsian blog caught my interest. It presents some handy techniques for creating an awesome effect that would usually be more tailored to Photoshop. Great use of blends and effects.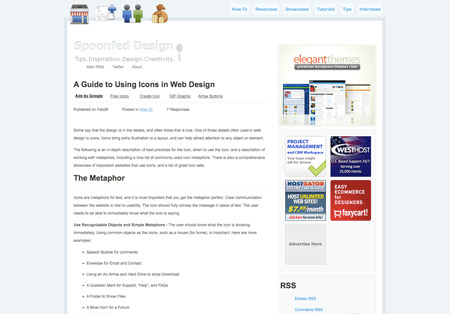 Spoonfed Design
Spoonfed Design recently posted this in depth Guide to Using Icons in Web Design. The article covers some of the theory behind icon use and presents tips on icon use and best practices. Combined with some great examples it's an excellent read for any web designer.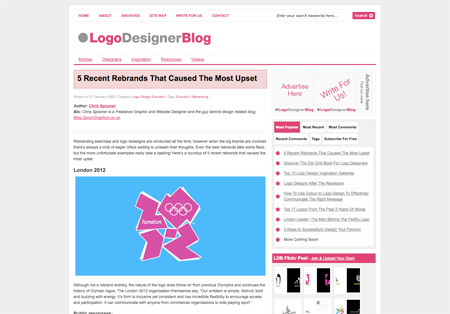 Logo Designer Blog
Jacob Cass of Just Creative Design recently launched his new Logo Designer Blog which aims to publish a range of logo and branding related content. I helped out with an article titled 5 Rebrands That Caused The Most Upset, a roundup of large scale corporate redesigns that maybe didn't receive the responses they had hoped. A brief description of the logo is presented along with some hilarious quotes from various blogs, forums and comment threads.