This week I've enjoyed reading a range of articles from design blogs across the web. Topics for this week's roundup include website background design inspiration and techniques, a great roundup of Illustrator tutorials, some fantastic looking Twitter background designs, a guide to producing high quality textures and a collection of sites to find free vector resources.
Noupe
Noupe is one of the high quality design blogs that consistently pump out quality content. This post, entitled Website Backgrounds: 70+ Impressive Trends, How-To's & Best Practices is no exception. The article rounds up some inspiring designs, and with a clever twist also lists similar tutorials in order to discover how to create the effect yourself.
Vandelay Design
Vandelay Design is no stranger to my weekly roundups, I constantly find myself bookmarking the posts for future reference. This article in particular provides a collection of 25 Tutorials for Using Illustrator and Photoshop Together for Outstanding Results, a really useful list that crosses the boundary between two applications.
Dzineblog
Although Twitter has a fairly restrictive theming system, users are tweaking their profiles to the max, using stunning design work in the background image of their theme. This roundup of 40 Beautiful Twitter Theme Backgrounds showcases some of the most inspiring.
Designm.ag
Caleb Kimbrough writes this highly useful article named The Ultimate Guide for Creating High Quality Textures for Designm.ag, an articles and resources portal for web designers. The post highlights some great tips for those wanting to produce their own resources for use in their work, or those who wish to give back to the community by releasing free giveaways.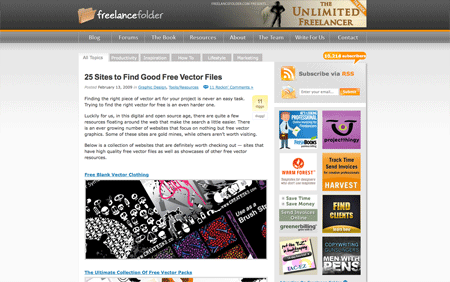 Freelance Folder
High quality vector files can a hard to come by, luckily Freelance Folder have compiles a list of the best websites offering quality vector resources. With such a diverse collections there is surely something useful for everyone!