I've come across some really cool posts and articles recently, making their way into this week's roundup is a website dedicated to showcasing business card designs; a collection of beautiful watercolour effects in web design; tips for working with Illustrator's Gradient Mesh tool; a compilation of tutorials for getting to grips with digital painting; and a bunch of resources for grid based design.
Card Observer
Just like the wealth of CSS web design galleries on the net, Card Observer compiles the best user-submitted business card designs into their gallery. Check it out for some design inspiration and an insight into some of the cool printing techniques designers are making the most of.
MyInkBlog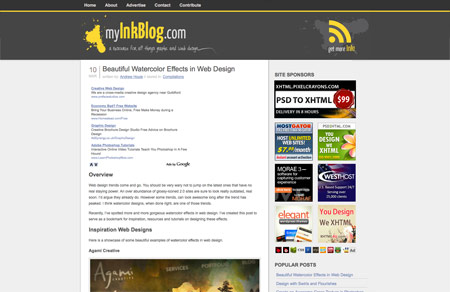 Andrew Houle has put together a great collection of web design inspiration on his website MyInkBlog. In the post titled Beautiful Watercolor Effects in Web Design Andrew pulls in some of the best examples of the hands-on style of this design trend.
Vectortuts
The Gradient Mesh tool is something I rarely use to it's full ability, but it's the one Illustrator technique I keep telling myself to make the time to learn. To make the task easier, Irmi Arieli has put together a brilliant collection of Tips for Working with the Gradient Mesh Tool in Illustrator.
Snap2Objects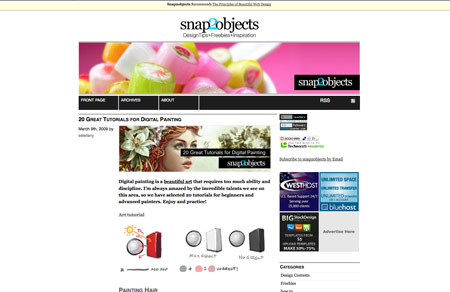 Digital painting is another discipline that takes a high level of talent and practice to get to grips with. Thankfully Snap2Objects have pulled together 20 of the best digital painting tutorials for both the beginner and advanced artist to help take those steps closer to producing photo-realistic artwork.
Fuel Your Creativity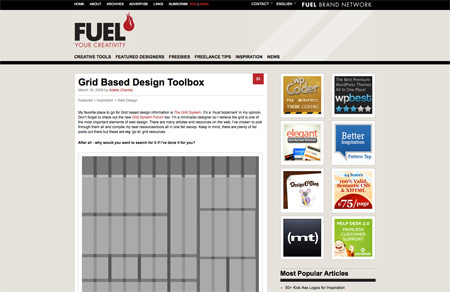 With the grid being one of the fundamental elements of design, having a good collection of resources is always handy. Adelle Charles from the Fuel Your Creativity design blog has picked out the best resources and tools and presented them in the Grid Based Design Toolbox.