The first in a new series of posts where I present my favourite findings from across the web, this week we have ScrnShots, CSS Tricks, Web Resources Depot, ClickHeat, and Web Hosting Search.
ScrnShots
As a designer I'm always on the lookout for inspiring designs and artworks from others and regularly attempt to save or bookmark specific items that catch my eye. I recently became a user of ScrnShots which makes this whole process much easier!
ScrnShots allows you to create your own profile where you can upload and tag your inspirations as screenshots, furthermore the social aspects comes into play by allowing you to check out what others are browsing.
The best feature for me is the downloadable desktop applications which make the whole process of uploading screenshots a breeze. At first I was a little skeptical about having to screenshot a page, crop it down and save it from Photoshop then navigate to the site to upload the image, instead I can quickly highlight an area of the screen and upload the screenshot directly via the ScrnShots desktop app. Easy!
To see some of my shots, check out my ScrnShots Profile.
CSS-Tricks Screencasts
Chris Coyier from CSS-Tricks always turns out great content in both his blog posts and screencasts. His new series of screencasts on the topic of Designing for WordPress look to be really hot and particularly useful to those wanting to setup their own WordPress based website.
The first video of the series goes through the process of downloading WordPress and installing it on your webserver, with future episodes covering the continuous stages of design and coding.
Web Resources Depot
Having a collection of resources for use in your designs makes life much easier when starting a new project. Another site I recently discovered and subsequently subscribed to is Web Resources Depot who present a fantastic list of goodies ranging from icons to javascript and ajax components.
ClickHeat
I've always liked the idea of the visual tracking solutions such as Crazy Egg, the Open Source variation named ClickHeat from Labs Media is a free and easy to implement alternative that allows you to see where users to your site are clicking in the form of heat spots.
I downloaded ClickHeat this week and gave it a run on a couple of my sites, simply upload the files and add a few lines of javascript to the bottom of your webpages and you'll soon be on the receiving end of some interesting insights!
For me, the most interesting aspect was seeing which pieces on my portfolio gain the most attention, showing clusters of dots relating to user clicks.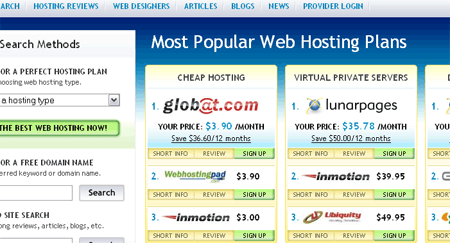 Web Hosting Search
Web hosting is an important aspect when it comes to running or designing a website, Web Hosting Search provides a great tool to quickly search through a number of hosting companies to find yourself the best deals.