In this week's roundup of creative goodness, we have a fantastic photo manipulation tutorial, a terror style movie poster tutorial, a bright cosmic illustration tutorial, an overview of modern day icon design and an inspiration roundup of Tron Legacy promo art.
Follow this tutorial from Tutorial9 to create a fantastic cloud jumper abstract photo manipulation.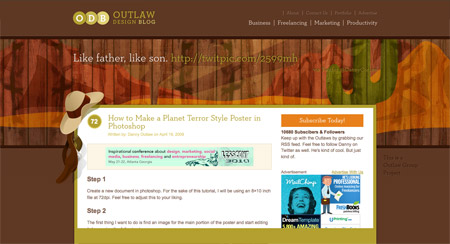 Create a old style horror movie poster with this Photoshop tutorial from Outlaw Design Blog.
This tutorial from Design Instruct covers the process of creating a bright meteoric composition complete with awesome light effects.
This second article in a two part series from PSDTuts explains the theory and history of icon design right up to the modern day icons we all love.
Fill your mind with colourful inspiration with this roundup of Tron Legacy promo art from Abduzeedo