In this week's roundup of creative goodness, we have a great tutorial covering the process of creating an abstract poster design; a rare tutorial topic showing you how to block a printed poster; some super useful hints and tips for Photoshop; an excellent icon design tutorial; and a roundup of cool curvy brush script fonts for reference.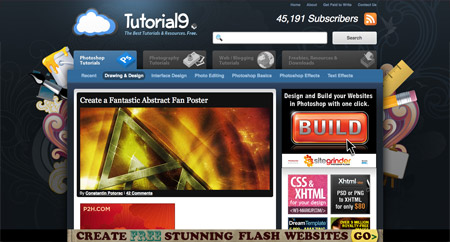 This great tutorial from Tutorial9 takes you through the process of building an awesome abstract poster design that boasts that retro-futuristic style.
Most design tutorials on the web are digital based, so it's great to see a rare topic such as this from Creative Overflow cropping up every now and again. This post covers the process of blocking a freshly printed poster; a great insight into some non-computer based design related tasks.
No matter how much of a Photoshop veteran you are, there's always new tips and tricks to be learnt. I personally picked up some useful little shortcuts from this handy post from Smashing Magazine. Check it out for some enlightening 'Ah-Ha!' moments!
Design Instruct is a new design blog, but is already packed full of some great tutorials and articles. This one in particular takes you through the process of designing a professional buddy style icon in Photoshop, with excellent results.
I've always wished for a roundup post of great looking brush script fonts, as I've always struggled to find good contenders for my design work. This post from Web Designer Depot answers that wish with a roundup of beautiful curvy brush fonts, showcasing plenty of fat, curvy and sexy typefaces.