In this week's roundup of creative goodness, we have a modern website layout tutorial; a fabulous Adobe Illustrator character tutorial; a roundup of the grunge theme in web design; a prediction of upcoming design trends in 2010; and an overview of current iPhone App website design trends.
Six Revisions
Six Revisions host this great Photoshop tutorial that covers the process of building a great looking modern portfolio website layout. Learn how to use various layer styles to create subtle interface effects.
Ai Monkey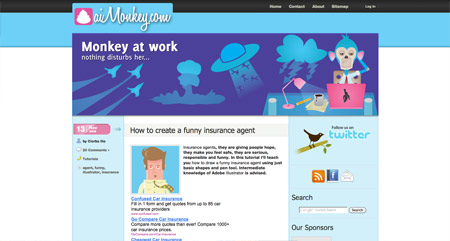 Ai Monkey is an awesome new blog I recently stumbled across. It's based on the topic of vector graphics and Adobe Illustrator, and is already packed full of some fantastic tutorials. This particular tut shows you how to create an amusing insurance agent character.
Spyre Studios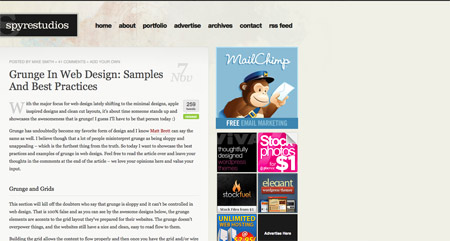 If, like me, you're a fan of rough and grungy design this post is packed full of inspiration. Spyre Studios host this great collection of samples and discussion about the grunge design style.
Web Design Ledger
With 2009 coming to an end there's talk of what design trends are in store for 2010. Web Design Ledger post this collection of items that we're likely to see more of in the new year.
Web Designer Wall
Web Designer Wall takes a look at some of the trends that appear in iPhone app website design, giving a description of common elements as well as a fantastic roundup of examples.