Every designer needs a variety of typeface styles that they can rely upon for every project. Usually a collection is built slowly as new fonts are purchased on an individual basis, but on rare occasions an opportunity to acquire a comprehensive library of top quality font families with huge savings arises. The Typographer's Versatile Collection contains 16 beautiful typefaces, each one featuring an endless selection of styles and weights to suit any design scenario. With a huge 99% discount slashing the price tag, this font library worth $3028 can be yours for just $29.
Unfortunately this deal has now expired
Join the mailing list to be the first to hear about awesome offers like this in the future!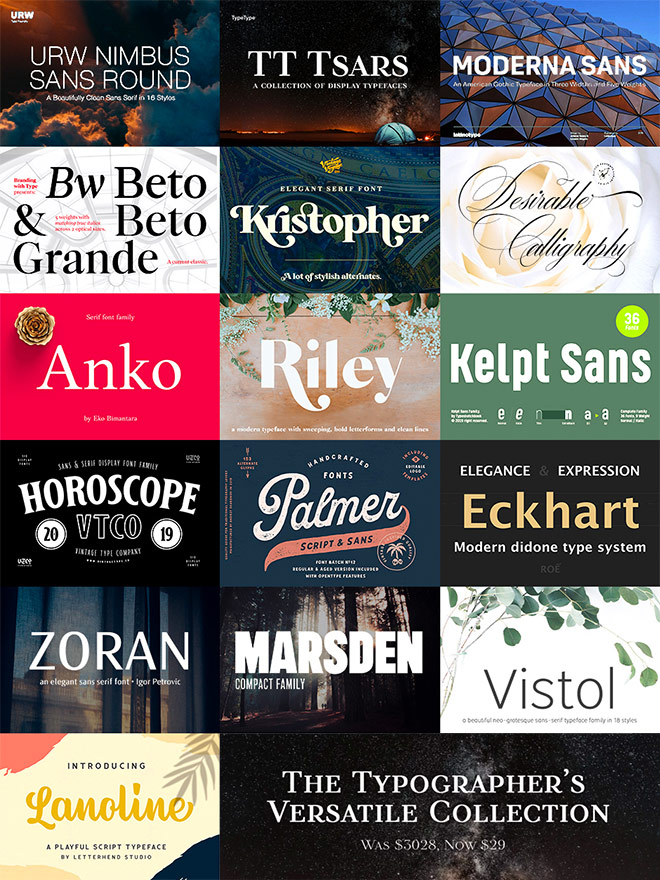 Every font family in The Typographer's Versatile Collection is a high-quality best-seller from well-renowned designers and font foundries. They all contain multiple versions, extra weights, styles and stylistic alternates that put them in a totally different league to most freebies available on the web. In short, these are properly made fonts!
Font bundles like this are such good value the deals aren't around for long. I often hear from my readers who have missed out on an offer just days after it expired, so be sure to grab it while you can! The 99% discount makes it a unique opportunity to upgrade your font library with some expert-level tools and improve your design work. This collection would usually cost over $3000, so while everybody else is working with the same old fonts, why not stand out by incorporating these show-stoppers into your projects?