Prepare for the creative challenges you might encounter in 2015 with some incredible new design resources. This fresh bundle from Design Cuts features 1000s of all-new artistic resources that allow you to create realistic watercolour effects, retro effects, gold effects, glitter effects, and many more creative effects in a matter of seconds. These kinds of design effects are typically really difficult to create from scratch, and so this bundle is a great opportunity to save yourself a lot of time and stress in your creative work this year! The bundle also contains a nice selection of mockup templates and artistic scene creators, which are the ideal tools for revamping your portfolio with stunning presentations of your work.
Unfortunately this deal has now expired
Join the mailing list to be the first to hear about awesome offers like this in the future!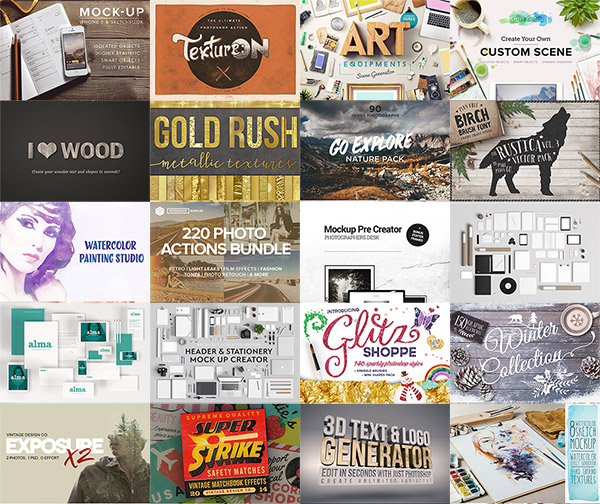 All the items in the Gorgeous Artistic Design Bundle are shortcuts to create impressive design effects. These resources allow you to create everything from watercolour effects, to wintery graphics, photo manipulations and retro print designs in a matter of seconds, rather than days. Best of all, this bundle is available at 93% off and includes the all important extended licenses so you can use the items in your design projects and work you intend to sell. Most of these best-selling resources don't have an extended license available anywhere else, so it's a really special offer.
There's two different types of resource in this collection; items that help you make cool effects, and items that help you beautifully show off your creations. Here's an overview of some of the resources that stand out to me:
Best-Selling Custom Scene Creation Packs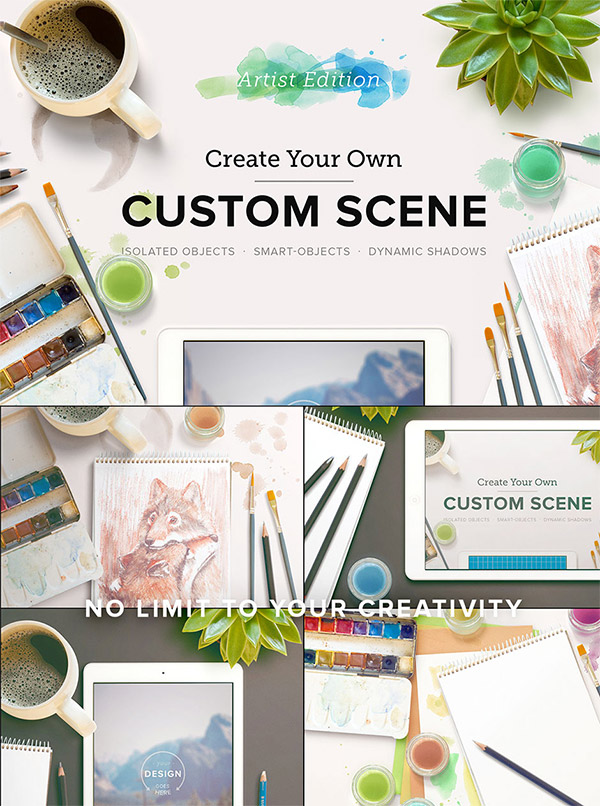 Easily create trendy desktop scenes to show off your work without the need for expensive photography equipment! There's two editions of Custom Scene included in this bundle; Artistic Edition and Designer Edition. Both contain isolated objects, smart objects and dynamic shadows to compose unique scenes.
The Glitz Shoppe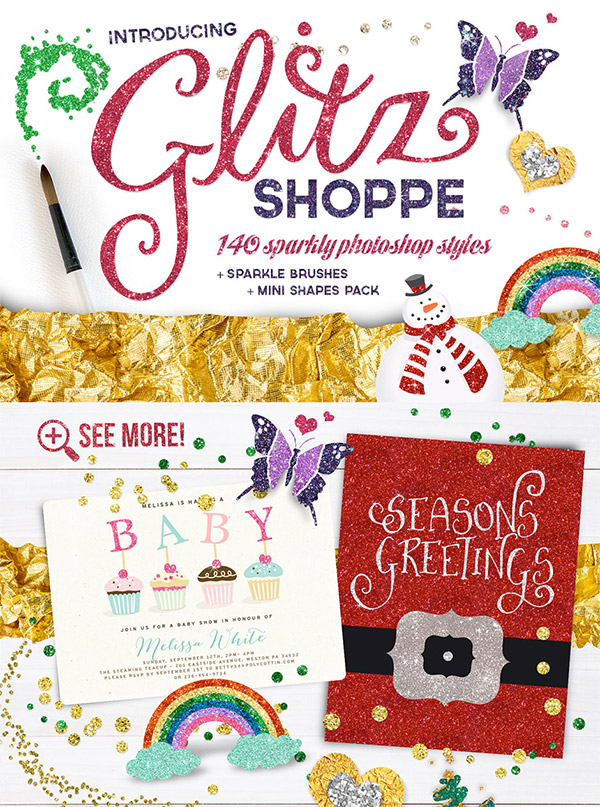 There's never been an easier (or cleaner) way to make glamourous glitter effects than The Glitz Shoppe Photoshop kit. It's a fantastic collection of Photoshop Styles, Textures and Brushes that add sparkle to your designs in seconds. No glue required!
Watercolor Sketch Mock Up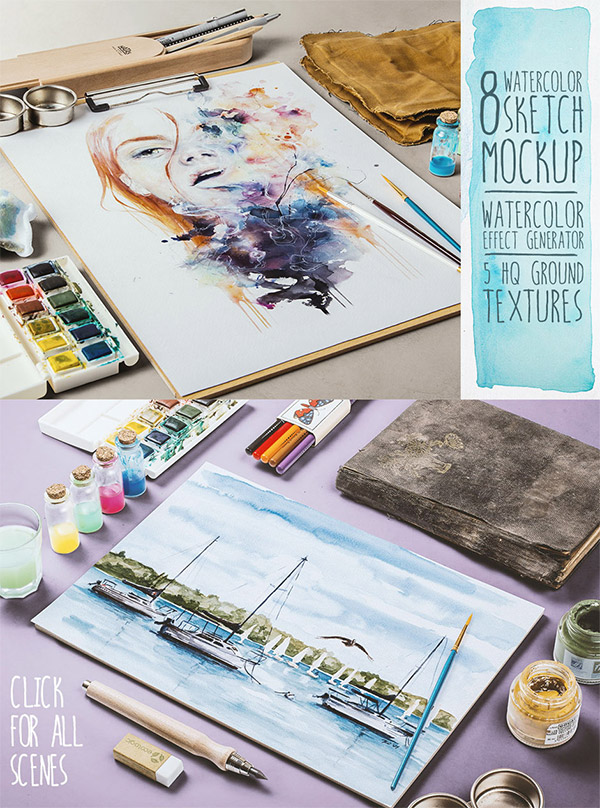 If you're a traditional artist, your work will look fantastic when it's presented alongside real brushes and paints in these watercolour sketch mockups. Prefer not to get your hands dirty? This pack also contains a watercolour effect generator, so you can paste in your digital art and create realistic paintings in seconds.
Stationery Mock Up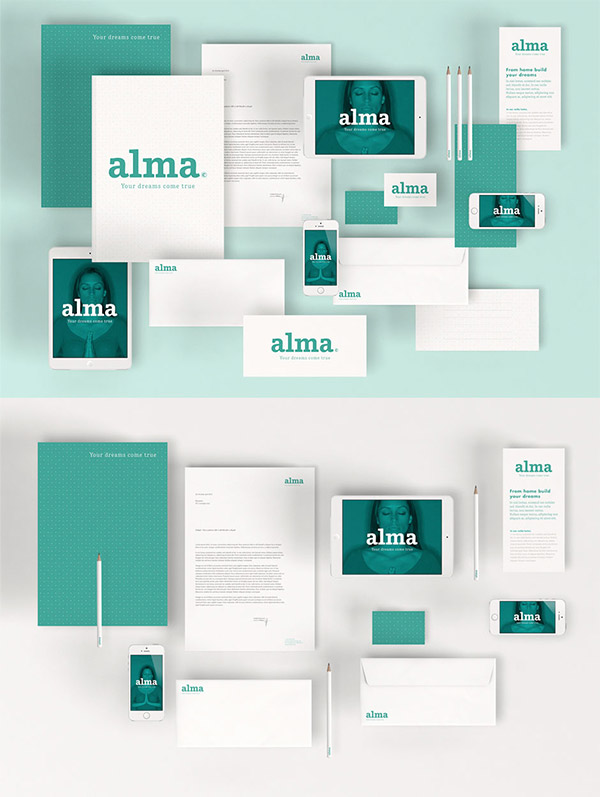 Branding projects always involve designing loads of small stationery items. Wow your client and present your work in your portfolio with two comprehensive stationery packs included in the bundle. Each object can be moved around to create any composition you desire.
Texture:ON Photoshop Action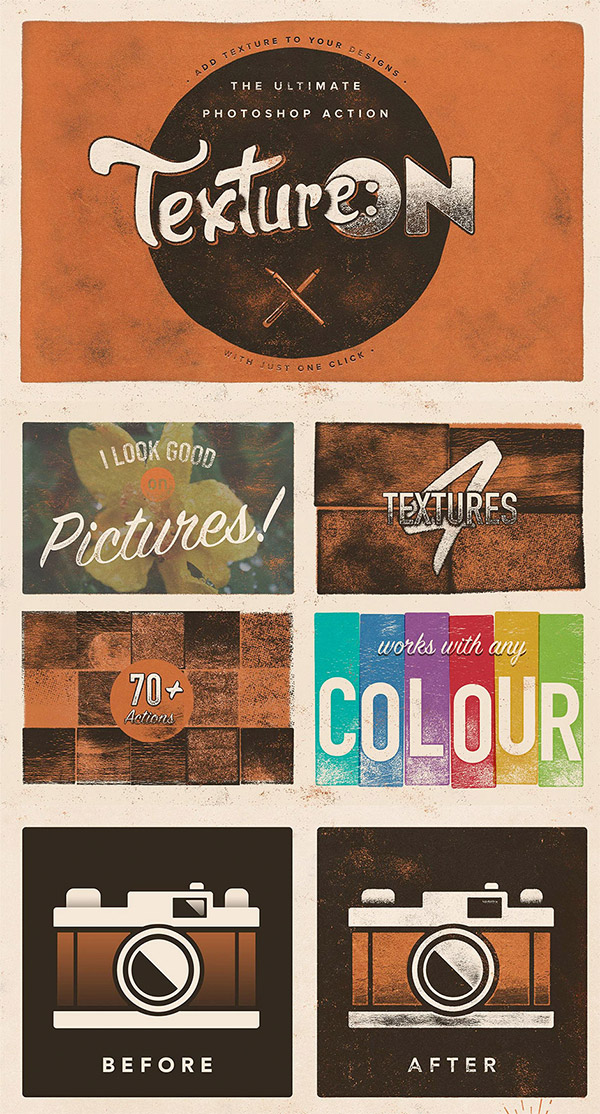 Texture:ON is the perfect solution to add non-destructive textures to your artwork. With a click of a button your designs will be given lovely worn and distressed effects to achieve the character and charm of retro art.
Loads more artistic goodies included!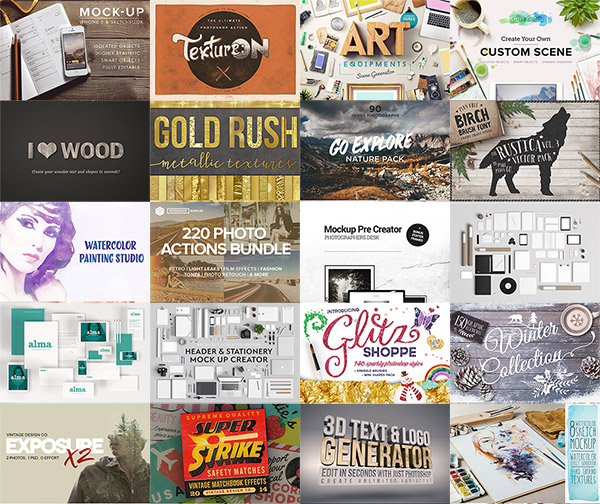 This is just a sample of some of the items that are included in the Gorgeous Artistic Design Bundle. You have to browse the full overview to really get a sense of the immense value of this collection. At 93% off it's already a steal, but the real clincher is the extended licensing, making it the perfect toolkit to tackle any design job that comes your way this year.