Watercolour, grunge and retro are three hot design styles that result in stunning artwork. If you've ever admired these kinds of effects and wished you could create them yourself, today I have the perfect collection of resources to show you. This Inspirational Artistic Design Bundle contains the best-selling products from the top creative resource sellers. These are the same tools they use to create their trend setting designs, including 12 creative fonts, 1000+ vectors, patterns, mockups, effects packs and many more coveted products—all for 91% off the regular price.
Unfortunately this deal has now expired
Join the mailing list to be the first to hear about awesome offers like this in the future!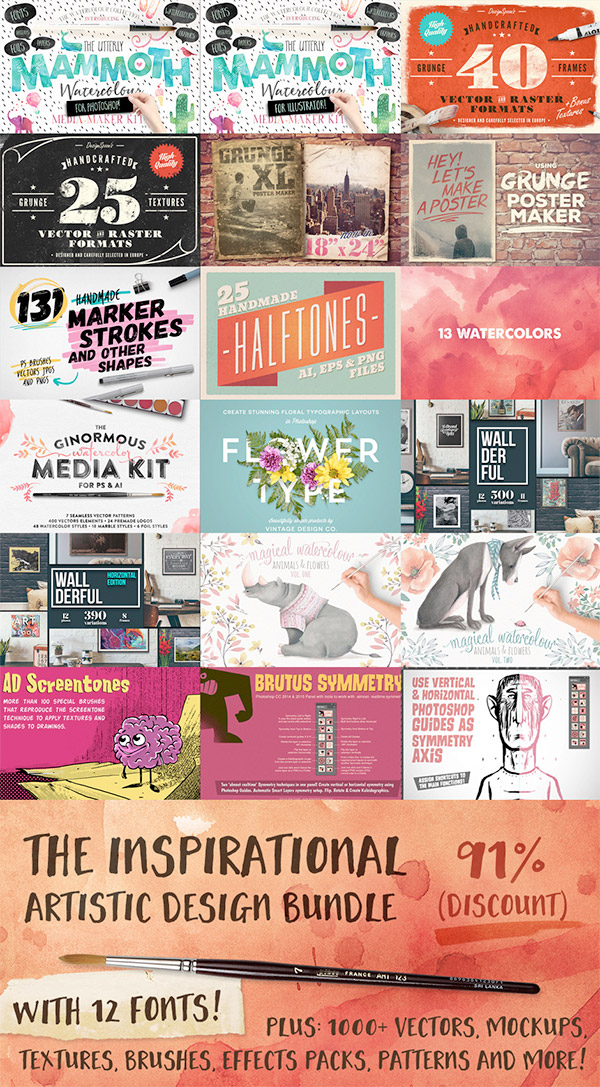 Creative projects aren't only for fun. Websites like Etsy mean that many designers just like you are earning decent incomes selling everything from posters to greeting cards. This bundle will equip you with the best tools for the job, at an unbeatable discount (91%) and with the complete licensing to allow you to resell your artwork, prints and derivative products. Check out the awesome design styles you can create in seconds with these top class products:
Watercolor Effects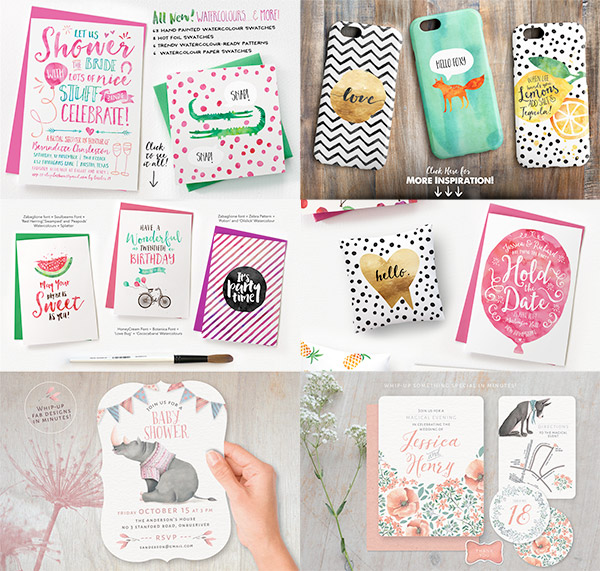 Greetings cards, posters, invitations and tote bag prints are all perfect canvases for watercolor style designs. There's no need to attempt to paint these by hand with real watercolours though, there's a range of comprehensive kits that give you all the textures, elements and patterns you could ever need to create cute and fun art.
The Mammoth Watercolour Kit by Nicky Laatz

Usually found at the top of the Creative Market most popular products list, the Mammoth Watercolour Kit from Nicky Laatz is the most thorough collection of resources. This product alone normally costs nearly three times the price of this entire bundle, and it's no surprise when you see its contents. A whopping 500 newly-illustrated vector elements, wobbly-edged, and watercolour-ready to use on their own or with watercolours applied; 63 brand new watercolour styles for use in Photoshop and Illustrator; 12 brand new hand-lettered fonts designed to complement each other perfectly in your typographic designs; 6 super trendy watercolour-ready patterns; and 6 seamless paper textures to make your designs look extra authentic.
Magical Watercolor Graphics by Lisa Glanz

Both volumes of Magical Watercolour Graphics by Lisa Glanz are included in this bundle, giving you 7 beautiful characters and 100s of individual elements. The whimsical animals are great for adorable baby and children designs, and the flowers for effortless wedding stationery. Or combine them to produce unique creations of your own with that special magical touch. Perfect for nursery art or an enchanted invitation.
Grunge Effects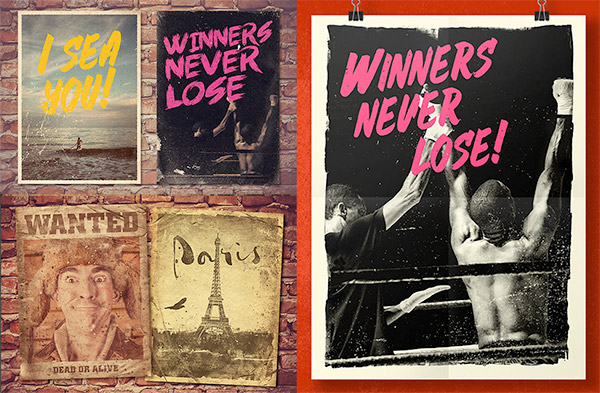 It's fun to get dirty with your designs! See how easy it is to add ageing and distressing effects to make your posters look centuries old. These best selling products aren't just textures, they provide a complete kit for adding dirt, tears, creases and stains to your artwork in seconds.
Grunge Poster Maker by DesignSpoon

Grunge Poster Maker is an easy-to-use product that makes creating posters faster and problem-free. If you want to give your posters depth and distressed, grunge finish this product is exactly what you're looking for. Over 30 individual texturing effects that can be combined to produce unique results every time.
40 Grunge Frames by DesignSpoon
This is a set of 40 high quality handmade grunge frames that can be used in a variety of projects such as posters, photos, postcards, flyers, T-shirts and many, many more. Vector resources are super important in real world projects, which is why every single one of these frames comes in EPS format as well as 600ppi PNG files.
Retro Effects
Mimicking the effects of low quality prints from early industrial printers is the best way to achieve the popular retro look in your designs and illustrations. Halftone textures and screen effects can be added to your clean digital work to give it a nostalgic comic book appearance.
AD Screentones by Alex Dukal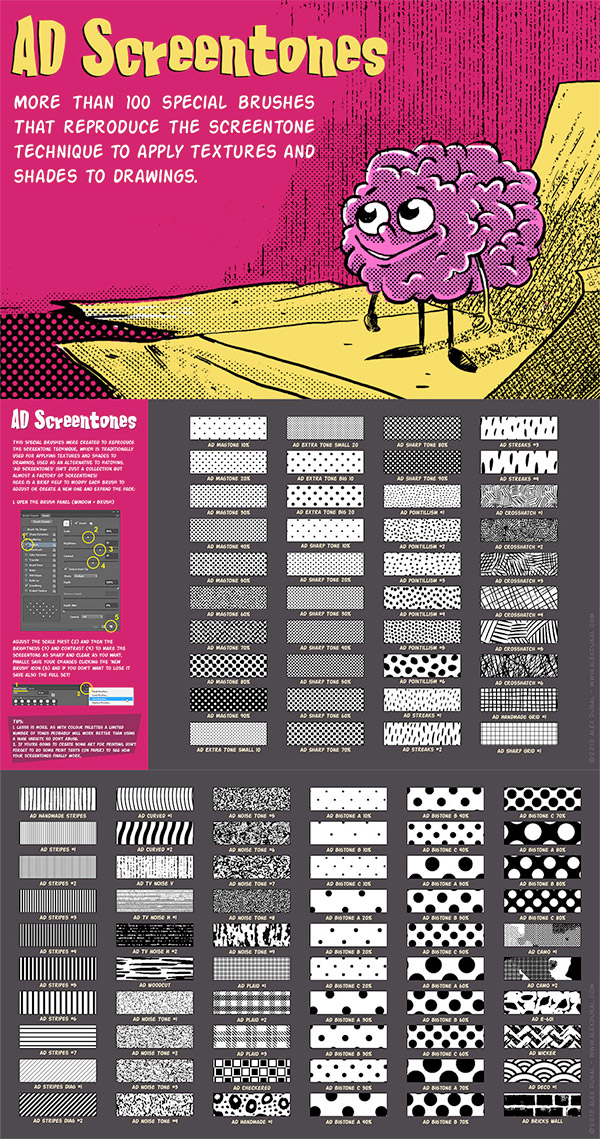 AD Screentones is a collection of over 100 special brushes that reproduce the screentone technique which was traditionally used for applying mechanical textures and shades to drawings. Their seamless nature allows you to easily paint your artwork with cool halftone dots, lines and noise.
Wallderful Mockups by Made by Vadim
You've just completed a cool vintage style design and now you need to show it off. The Wallderful frames mockups provide a range of chic environments to simulate your work as a classy framed print. There's some beautiful scenes with old brick walls and nostalgic objects (plus some contemporary stages too!), along with a wide selection of weathered frames with heavy wood grain.
Even more tools to create other effects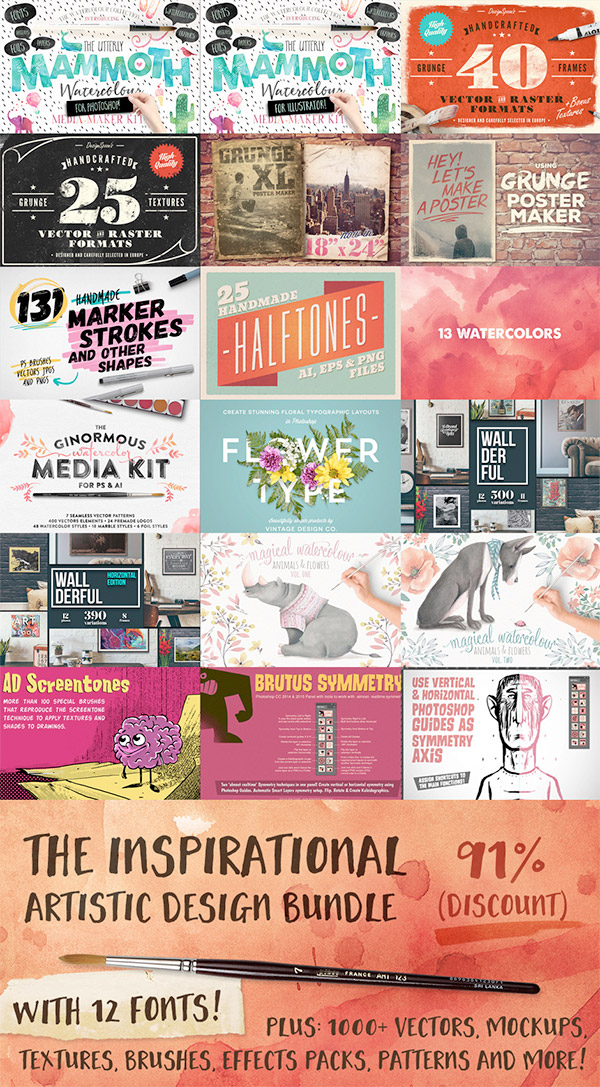 My review of the Inspirational Artistic Design Bundle just features the top resources for creating watercolour, grunge and retro effects, but there's even more items included in the full collection that help you create popular styles. I'd highly recommend checking out the full overview to appreciate the massive value of what's on offer. The 91% saving makes this a great opportunity to work with the same artistic tools used by these trend-setting designers, at an unbelievable price of just $29.