Of all the different design styles, the vintage look is the most difficult to pull off, unless you have the right materials. Authenticity is the key when it comes to creating realistic vintage artwork, otherwise you end up with a cheap looking digital knock off. Nothing replicates the charm and character of the vintage style quite like actual items from the era which have slowly aged and weathered over years upon years to produce the most authentic tools possible. However, you might not have a stack of old papers from the 17th century laying around, which is where the All-Encompassing Vintage Design Bundle comes in. This collection of premium resources sets you up a comprehensive range of gorgeous fonts, textures, vector graphics, text effects, textures and vintage ephemera, all sourced from rare items that would be very hard to come by otherwise.
Unfortunately this deal has now expired
Join the mailing list to be the first to hear about awesome offers like this in the future!
Do these similar products interest you instead?

All the products in The All-Encompassing Vintage Design Bundle have been sourced from over 500 years worth of genuine vintage materials, dating right back to the 16th Century! The Beginner's Vintage Ephemera Pack is the ultimate treasure chest of old-time designs. If you're a font lover, GLC Foundry have even hand-scanned a range of classical fonts, and updated them for digital use. You can also discover a range of vintage illustrations and images, all expertly converted into an easy-to-use format for the modern designer. With a total value of $1590 discounted to $29, this is a brilliant opportunity to access a vast library of unique resources.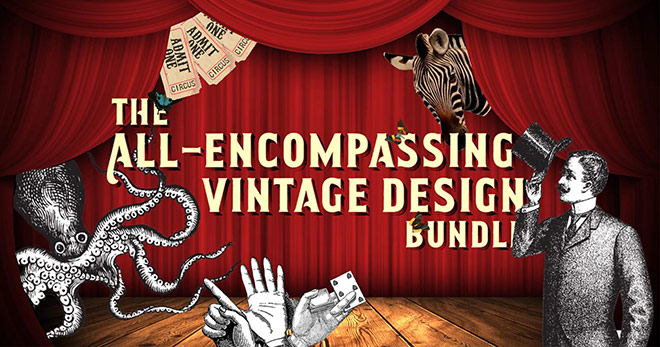 When vintage style designs rely so much on third party assets, it's important to consider the licensing terms. Thankfully you're completely covered for every single item in this collection with an extended license that allows you to use any of the resources in your commercial and client work, as well as work available for sale, such as merchandise, posters, prints and more. This bundle deal expires soon and once it's gone, it won't be available again! If you think you might need any of these tools to create old style artwork in your future projects, be sure to secure your copy for just $29 while you can!