A huge new fonts bundle has just landed, and this one brings you some of the hottest fonts in the world right now. The Definitive Font Selection contains 20 of the most popular font families from a range of celebrated font foundries, providing you with their best releases in one showstopping bundle. Discount the $2142 total value by a massive 99% and you get this entire lineup of premium fonts for just $29, including the best licensing terms available. This collection brings you ultimate quality and variety for your projects and ensures you'll be covered whether you need a reliable display font, clean sans serif, ornate script, whimsical hand-drawn fonts, or bold feature font.
Unfortunately this deal has now expired
Join the mailing list to be the first to hear about awesome offers like this in the future!
Do these similar products interest you instead?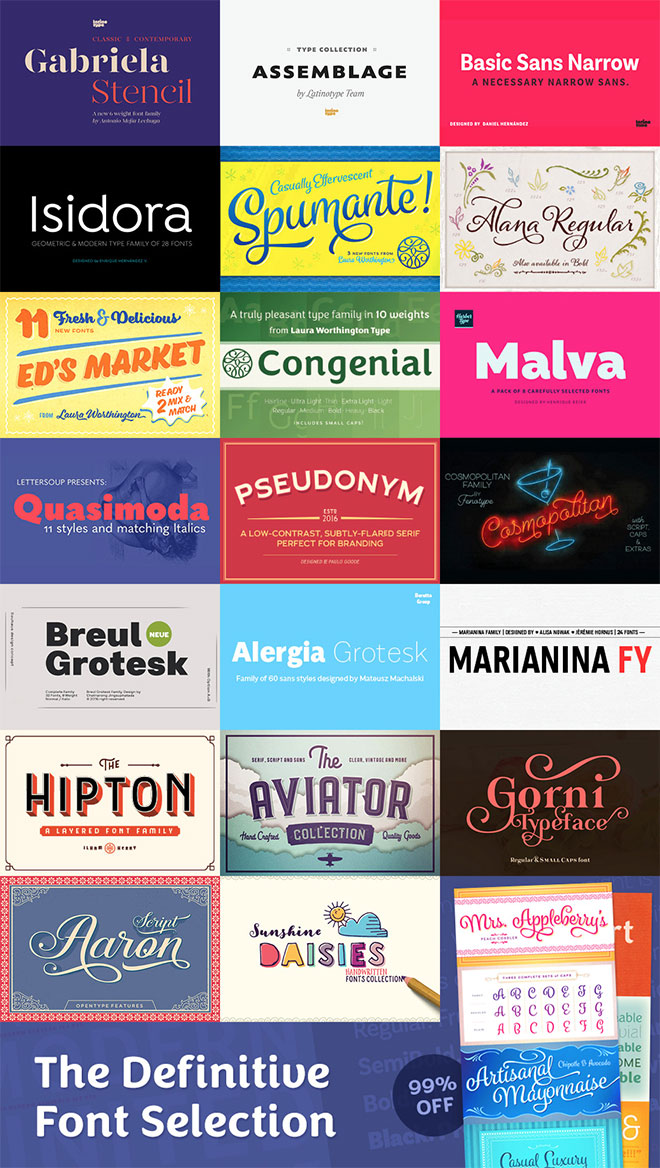 Every one of the font families in the The Definitive Font Selection includes a wide variety of weights, styles and language support. With over 325 fonts spread between these 20 families, you'll be well equipped for any project. Some of the typefaces also come with bonus/extras packs that contain additional creative resources to complement the design and typographic style.
Assemblage
Assemblage is a typeface inspired by Roman square capitals. It comes in 6 different weights ranging from Thin to Black. The background of the typeface makes it well-suited for branding, short text, titles and complex compositions, thanks to its italic version.

Gabriel Stencil
Gabriela Stencil is a classic font family with a unique character, inspired by the style of the 19th-century Didone typefaces. It has a modern and elegant personality and is ideal for headlines, short text, branding and publishing projects. The family comes in 6 styles, from Thin to Black, plus matching italics and contains a 433-character set that supports 206 different languages.
Basic Sans Narrow
Basic Sans Narrow is a narrower version of Basic Sans. It is a family of Grotesque features with a functional, neutral and clean style that looks to keep a neutral (or basic) appearance on paper, but includes lots of details that give it a unique personality. It comes in 7 weights—ranging from Thin to Black plus matching italics.

Isidora
Isidora is a modern geometric font based on the classic typefaces of the early 20th Century yet with a contemporary and functional touch. In spite of its strong and rational structure, the font also looks friendly and expressive, thanks to its rounded terminals. In addition, its diagonal terminal cuts give it a softer and more rounded appearance. Isidora consists of two 7-weight subfamilies: one (more classic) Regular and one Alternative (more contemporary and display). Both subfamilies come in italic version, giving a total of 28 fonts.
Spumante
A slim, semi-connected script with lithely upright curves, Spumante conveys the casual effervescence of its namesake wine. Smoothed brush-script letterforms bounce gently along the baseline, and letters vary slightly in their slant – characteristics that combine to create a very human and inviting mood. Dress it up with over 200 swashes, alternates, and ornaments, or use the titling alternates (in the OpenType menu) for a minimalist, unconnected look

Alana
Alana is a connected script face that glows with casual elegance. Based on a personal handwriting style (rather than showy calligraphy), Alana's inviting letterforms work convincingly in settings such as letter-writing and menu details, even at small sizes. Use over 300 alternates, including swash capitals and ornamented forms, to use Alana for titles, headlines, packaging, and wordmarks. Includes 62 matching ornaments: botanical fleurons, birds, and cute lil' bugs.

Ed's Market
Ed's Market lets you evoke the warm, inviting vibe of classic 20th-century grocery posters and showcard lettering right from your type menu. But smart programming ensures that digital perfection doesn't trump human charm: each display face features three variations of each letter, to ensure a natural hand-painted look when characters repeat.

Congenial
Congenial is a friendly and inviting face with a generous x-height and highly differentiated characters. Look closely and you won't see a sharp, modernist edge anywhere. Like a perfect host, Congenial draws little attention to herself, yet she's arranged everything for effortless comfort — so you can focus on communicating whatever you need to say.

Malva Basic
Malva was designed to perform as a branding element, providing a clean look for visual identities and publications. It brings a touch of friendliness to the communication without compromising the professional look every brand strives for. The family consists of 8 fonts: Light, Regular, Bold and Black with matching italics. Each font contains 424 glyphs, supporting 219 languages.
Quasimoda
Partly geometric, partly grotesque, Quasimoda is a versatile beast. It follows the current fashions but does not completely give into them, retaining classical proportions and the slight ugliness of the 19th-century grotesques. With its long descenders and its small x-height, Quasimoda combines well with Renaissance serif fonts such as Garamond, or it can serve itself as a leading body font for longer texts, as well as a variety of branding, headline and display purposes.
Pseudonym
Pseudonym is a low-contrast, subtly-flared serif available in four weights across three styles in both roman and italic. There's a full set of true small caps with their corresponding diacritics and figures, along with a number of discretionary ligatures.

Cosmopolitan
Cosmopolitan is a monoline font family with script and sans versions that both work great together or alone. It comes with five weights and "printed" versions. It's packed with OpenType alternates: turn on Swash, Stylistic or Titling Alternates in any OpenType savvy program or find even more alternates from the Glyph Palette.

Bruel Grotesk
Taking inspiration from an attempt to marry art with the industry of Bauhaus (1919), Brueul Grotesk is classic and straightforward, cutting back superfluous elements. A Sans Serif type, it's like a design from the Machine Age. It comes in A and B sets to offer end variations—choose the bulbous terminals set if you need a less stern impression.

Alergia Grotesk
Alergia Grotesk was made as a hybrid between a classical geometric grotesque and a linear antiqua. Unpredictable cuts in a letters 'a' and 's', or a double 'g' in combination with a delicate contrast, makes Alergia Grotesk a good choice for many purposes from headlines to short flowing texts. The family contains 10 weights, 3 widths and set of italics.
Marianina FY
Marianina FY is a really big sans-serif family of 24 fonts. With its very particular inktrapes, subtle in light versions and more visible in the black ones, each roman (condensed and normal) has 6 weights and also exists in italic. Inspired by 20th century fonts, Marianina FY is a perfect contemporary font family for small and big text sizes.

The Hipton
The Hipton is a collection of type styles with a layered system that provides many possible combinations and options. As a display typeface The Hipton is suitable for headlines, logotypes, signs, posters, greeting cards, t-shirts, and much more.
The Aviator Font Collection
The Aviator Font Collection is a type collaboration of four different vintage fonts. Aviator Regular, Aviator Bold and Aviator Sans come in clean and aged variants, while the complementing Aviator Script comes in clean only. Also included is 52 vintage illustrations for logo creation and and textured segments for creating badges.
Gorni Typeface
Gorni typeface is a display serif font with a romantic vibe. It includes special ligatures, swashes and alternates and a range of other Open Type features. Combine the Regular and Small Caps styles for perfect font pairing.
Aaron Script
Aaron is highly legible Script typeface, a simply beautiful, classy and elegant typeface. It features 400+ glyphs and 190 alternate characters, including initial and terminal letters, alternates, ornament, swash, ligatures and multiple language support.
Sunshine Daisies Font Collection
Sunshine Daisies Hand Lettered collection brings 15 handwritten fonts infused with fun and sunshine. The script is full of alternates and the layered font has a pseudorandom function embedded that means two letters will never look the same when placed next to each other. To add even more fun, a special Sunshine Daisies Extra font with 150+ doodles with 2-color fills is included.

The Definitive Font Selection. Just $29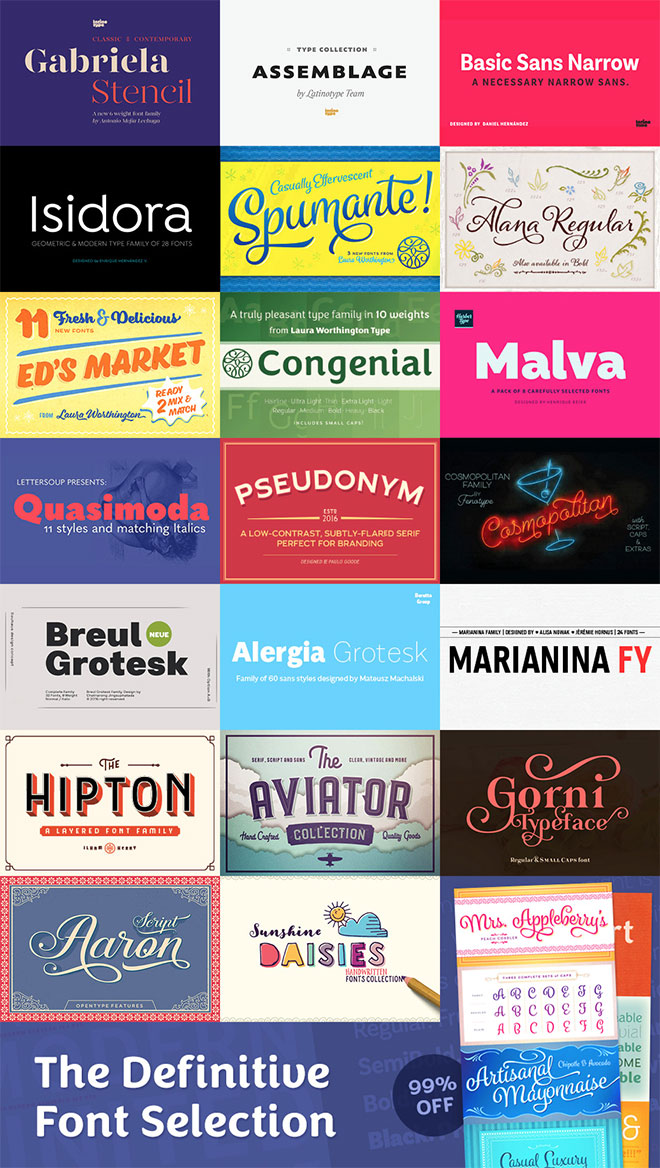 This bundle of best selling font families is only available for a short time, so take the opportunity to extend your font library with a variety of new typefaces. The 99% discount reduces the cost just $29, which is unbelievable when compared to the total value of $2142 that these fonts retail for at their regular price. Not only do you get these 20 font families with over 325 individual fonts and the selection of extra graphics packs, all the fonts come with extended licensing, which covers you for usage in all kinds of design projects.