If you love the vintage design style you need to get your hands on this brilliant toolkit of fonts, textures, logo templates and graphics from Heritage Type Co. The Milkstore Collection contains everything you need to create vintage style logos, badges, labels, packaging or title designs with a hand-crafted vibe. The newly updated pack is currently on sale, and I've teamed up with Heritage Type Co. to offer Spoon Graphics readers an extra 10% off, making the final price $25 with a total discount of 35%. Use the code SPOONER-MILK-20 during checkout to secure the best price around!
Heritage Type Discount Code: SPOONER-MILK-20
The Milkstore Collection is a comprehensive pack of tools and resources designed by Tobias Saul, one of my favourite lettering artist and illustrators. You may have seen his stunning work featured in many inspiration showcases on Spoon Graphics. His typefaces capture the authentic look of true vintage brands. Inspired by vintage brick wall murals, The Milkstore Collection is designed with a hand-crafted look and includes:
5 Vintage Typefaces with Multiple Styles
With a gorgeous script, an industrial condensed sans, a heavy wedge-serif, a rounded sans-serif, and an elegant serif to choose from, pairing fonts has never been easier! Each of the 5 handcrafted typefaces includes three styles: Rough, Clean and Textured, providing a total of 15 fonts.
18 Editable Logo Templates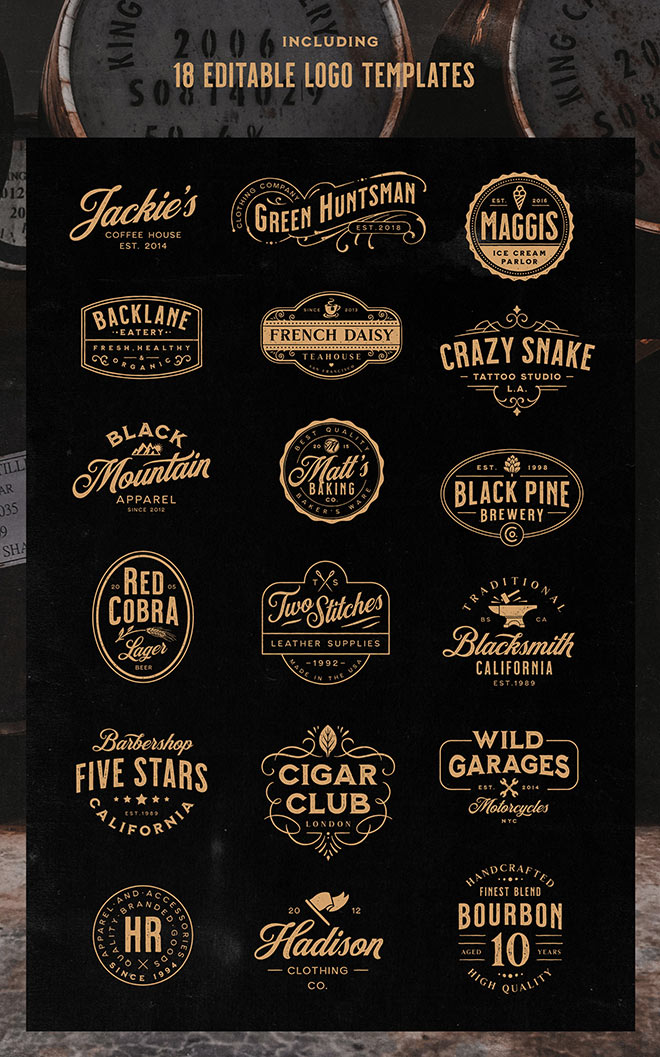 Easily produce stunning vintage style logos, badges and labels with 18 editable logo templates for Adobe Illustrator (CS & CC). These pre-made designs are built using the included Milkstore fonts, meaning you can edit the wording to customise the layout for your own projects.
Over 30 Hand-Crafted Vector Icons
Swap out the graphics within the logo templates to tailor the design to a different industry, or build your own designs by arranging the type and graphics into custom compositions. With over 30 hand-drawn icon graphics to choose from, you'll find an icon to represent a range of specialties.
12 Dark Texture Backgrounds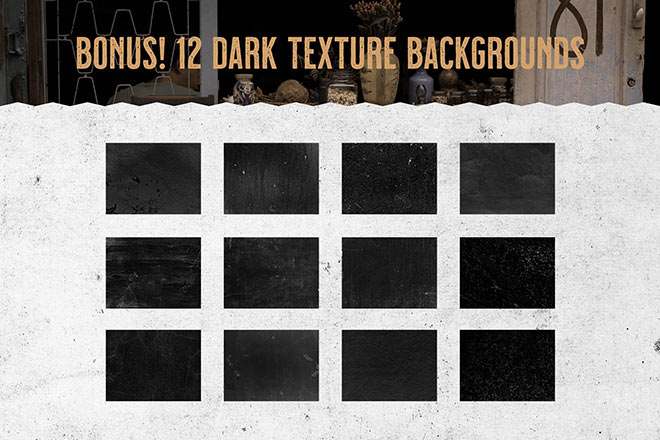 No vintage design is complete without an aged and distressed texture to compliment the aesthetic. Also included are 12 bonus texture files as huge 4200x3150px, 300DPI JPGs. Use them to present your logo designs in the right mood, or keep these useful assets handy for all your other creative projects.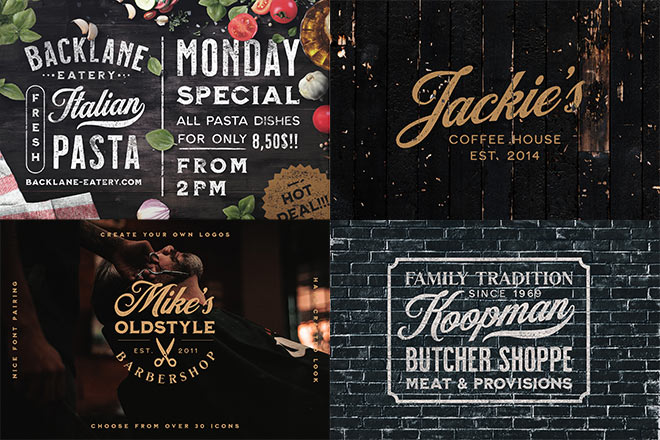 Get 35% off with code: SPOONER-MILK-20
Benefit from an additional 10% discount on top of the current sale price with the code SPOONER-MILK-20 to secure a total of 35% off The Milkstore Collection, which reduces the price to just $25.
Buy The Milkstore Collection for $25
Other Heritage Type Discount Codes
⭐ 20% Off Heritage Type Milkstore Collection Discount Code
⭐ 20% Off Heritage Type Discount Code: Vintage Logo Bundle
⭐ Heritage Type Vintage Font Bundle Discount Code: Extra 10% Off!
⭐ 20% Off Heritage Type Discount Code: Nostalgic Font & Label Collection