I know my readers love a good fonts bundle, so I'm excited to share the news about the latest deal from Design Cuts. This collection of 15 professional quality, hugely versatile font families is their lowest price bundle yet at just $15 after the insane 99% discount. That's a saving of over $1700! This bundle was made with direct feedback from the community, so it contains the best fonts designers like you and me asked for. This means there's an awesome variety of clean/corporate fonts, artistic/brushed fonts, calligraphic/scripted fonts, and vintage/retro fonts from some of the top font foundries in the world.
Unfortunately this deal has now expired
Join the mailing list to be the first to hear about awesome offers like this in the future!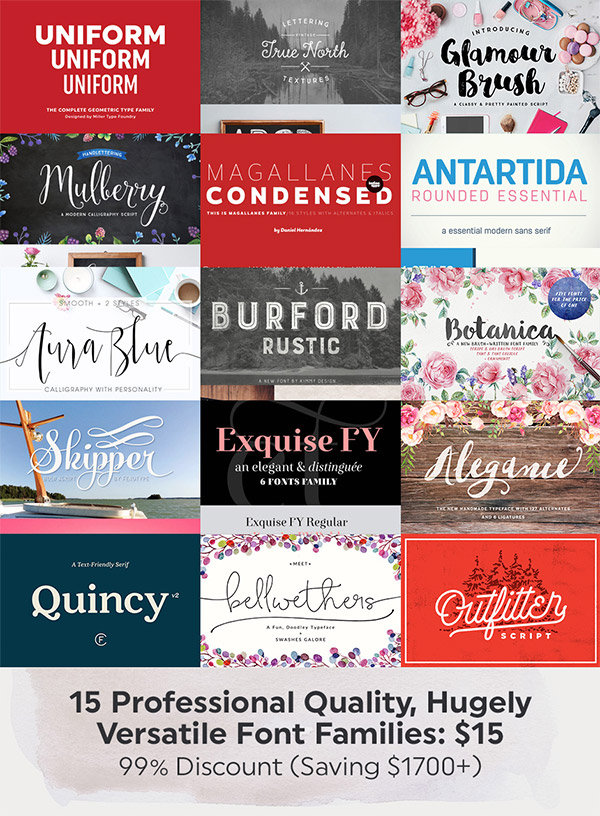 After picking up every Design Cuts font deal so far, I've found the fonts I use the most are those with an extensive family. Having a variety of fonts allows you to choose complementing styles and pick the perfect weight for your designs. This new bundle clearly focuses on professional font families, with each one having dozens of styles, contextual alternates, creative extras and extensive language support. As well as true quality, this bundle has ultimate value. The 99% discount takes the cost of these best selling fonts down to $1 each. These incredible font families would usually set you back $1720 at their regular price, but this bundle is an exclusive chance to own them for just $15. Here's a look at some of my favourite font families from the collection, that I can't wait to put to use in my designs:
Uniform

Uniform is a multi-width, geometric type family designed around the circle. Its three widths make an ideal type family for a host of various uses. From branding to web design, book covers to signage, Uniform is a very versatile solution to complex typographic needs.
True North Textures

True North Textures is a headline font with alternate capitals. Combine all 18 styles with the script, banners, labels as well as extras, and you get a wonderful distressed vintage design perfect for logos or typographic illustrations.
Mulberry Script

Mulberry Script is a whimsical handwritten calligraphy script with a lot of character. This typeface comes with pretty flourished alternate letters, ligatures, extras, watercolour art and ornaments. This gorgeous font also includes regular and bold weights, which is rare for this kind of hand drawn style.
Quincy

Quincy's warm, flowing letterforms, tall x-height and medium contrast provide a pleasant reading experience for longer passages. Its OpenType features include ligatures, old-style figures &smp; fractions while its four weights and true italics ensure versatility.
Antartida Rounded Essential
Antartida is a sans serif with rounded terminals. Its simple, neutral feeling is functional, clean & minimal, and its rounded terminals make it friendly and warm. Antartida is a family of 4 fonts comprising of 2 weights and their italics.
15 Professional Font Families for Just $15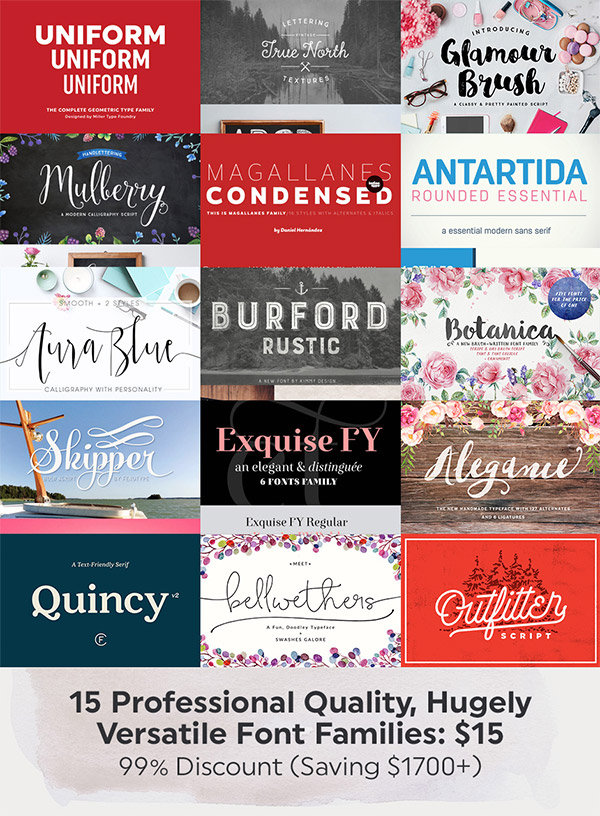 I don't have enough space to feature all the fonts in this bundle as part of my review, so I'd highly recommend you check out the full overview page to see the full range. Complete font families that have been meticulously designed with perfect kerning, legibility and base-lines; along with hugely extensive language support, tons of contextual/stylistic alternates, and additional characters are the most premium quality tools a designer can own. Any one of these fonts is worth more than $15 alone, so this deal is a fantastic opportunity to grab them all with a 99% discount!