You're going to need a bigger toolbox after picking up this epic artistic collection currently on offer from Mighty Deals! Compiled from 36 different professional Pixelbuddha products, you'll be taking home over 2,000 unique design elements from brushes to frames to Photoshop effects. There's even a wide range of styles to handle your projects whether they be vintage, modern or grunge. The regular $1470 price tag for all these resources is reduced to just $9 with a 99% discount, but the offer ends in just a few days.
This content contains affiliate links. Find out what that means for you and me.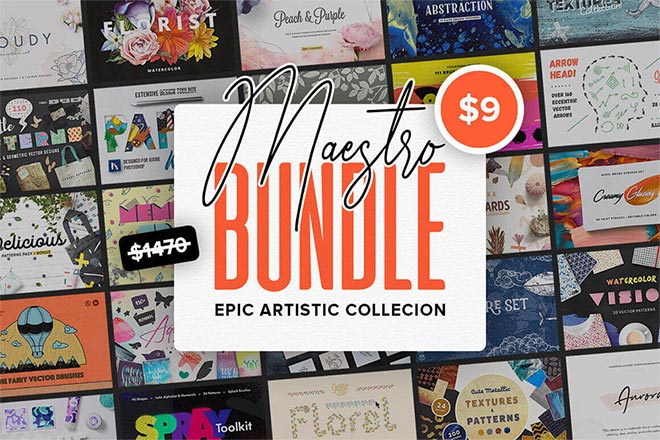 In this Epic Artistic Collection you'll find dozens of premium resources, including brushes, textures, watercolours, frames, patterns, vector illustrations, logos, logo elements, paint strokes, Photoshop effects, mood boards and so much more. There's also a variety of themes and styles ranging from florals to animals to vintage to grunge.
Normally this mammoth collection sells for $1,470 but for a limited time only, you can get all 36 Epic Artistic sets for only $9! That's a ridiculous savings of 99% off the regular price.