Script and calligraphy fonts are some of the most sought after resources, so this new bundle of 21 beautiful fonts from Design Cuts is a dream come true for typography fans! Fonts of this quality can be pretty expensive at full price. In fact, if you were to buy this collection at regular price, it would cost you $922. This is a unique chance to own them all for a massive 97% off the regular price, saving you almost $900!
Unfortunately this deal has now expired
Join the mailing list to be the first to hear about awesome offers like this in the future!
These fonts are amongst some of the most popular and best-selling in the world. This bundle is a true hall-of-fame collection. It combines some of the current massive best-sellers which are going wild in the design community, with some all time popular classics. This is the perfect chance to step up your font collection and save a fortune in the process! Not only do many of these fonts include tons of creative extras such as vector packs, useful guides, ornaments and more, but you also get fully extended licensing on every single font, as well as web font versions. Many of these fonts don't offer web versions or an extended license anywhere else.
This bundle has a clear focus on script fonts but there's a diverse range of styles and character. You'll be able to find the perfect font in your design projects for years to come. Here's some of my personal favourites:
Manhattan Darling
The Manhattan Darling font may look familiar, because it's currently number one in the Most Popular chart on Creative Market. It's a clever dual purpose font which uses the uppercase portion (Manhattan) to create a bold, organic hand-painted typography, or the lowercase portion (Darling) for beautiful branding, logo designs, invitations, wedding elements, etc.
Isabella Script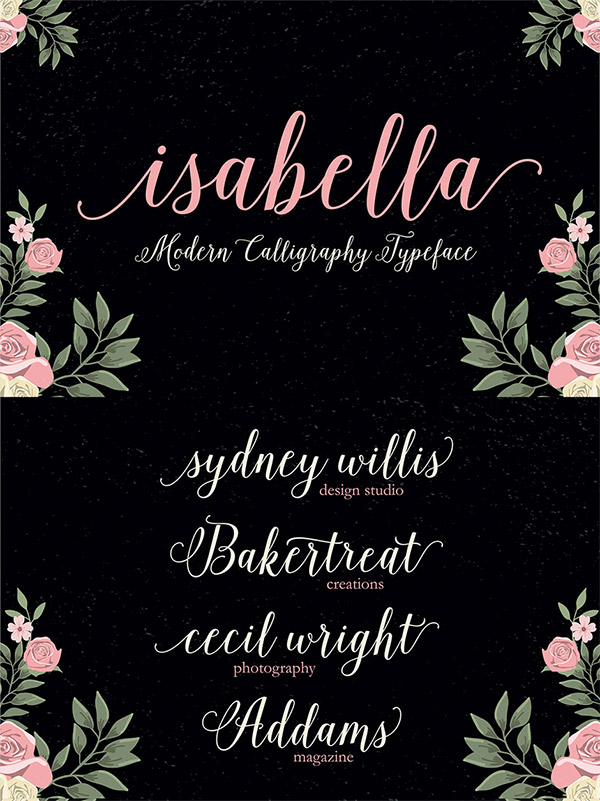 Isabella is handwritten stylish calligraphy fonts, which combines historic copperplate styles with contemporary typefaces with a dancing baseline. This is another best selling font, reaching number 5 on the top 100 resources of 2014 on Creative Market.
Everglow Script
Everglow is a bold, classic, and fun vintage script with 560 glyphs and 322 alternative characters, such as stylistic alternates, ornaments, and swashes. Its cool curves make it perfect for logos and typography designs and the stylistic alternates ensure that no two letters look the same, giving your work that custom lettering appearance.
Veryberry Script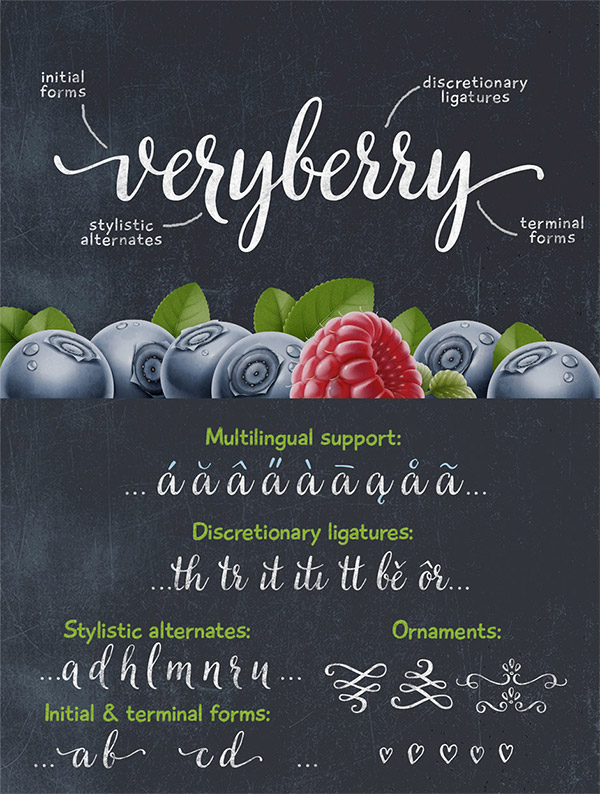 Veryberry is a handwritten font with a unique character. There are more than 750 glyphs in the font including discretionary ligatures, initial and terminal forms for all letters and ligatures, stylistic alternates, ornaments, etc. It would take years of calligraphy practice to produce typography like this by hand, yet all the elegant features are available in this one font.
No. Seven
No. Seven is a bold brush style script family of three weights, ornament set and a block capital "small caps" font. Combine the three variants to complete your designs with just a single font selection. No. Seven is an effective font for creating ambitious headlines, logos & posters with a custom-made feeling. With so many alternates there's multiple ways to style each letter.
That's not all!
This is just my sample of 5 font from the whole bundle of 21 beautiful typefaces. Browse the full overview to see all the fonts you get for just $29. Don't forget, all these fonts include extended licensing and web font variants, so you can use them in all your commercial design projects. Offers like this don't hang around for long, so be sure to grab them before it expires.