Have you been struggling to find the perfect typeface for your designs or are you becoming bored of using the same old go-to fonts? A great opportunity to extend your font library has just arisen with the Professional Grade Font Families Bundle from Design Cuts. This deal contains over 220 individual fonts spread throughout 20 font families, providing you with the highest quality typefaces to take your designs to new heights. A massive 98% discount off the total value of $1,786 means you can get hold of this superb collection for just $29.
Unfortunately this deal has now expired
Join the mailing list to be the first to hear about awesome offers like this in the future!
Every typeface in this bundle is a big hitter that has been picked out from the best-sellers lists for their high quality and attention to detail. They're all professionally crafted families with multiple weights and styles, each featuring a full set of glyphs, stylistic alternates, ligatures and extensive language support. The variety of aesthetic styles equips you for any project. You'll have a whole new selection of serifs, sans-serifs, slab-serifs, cursive fonts and hand drawn scripts to play with in all your future designs. Here's a closer look at the full range on offer:
Muriza
Muriza is a modest slab-serif with nice graduated weights from Hairline to Black, along with a distinctive Italic style. Full OpenType features like oldstyle figures, small caps and stylistic alternates are included as well as extended language support.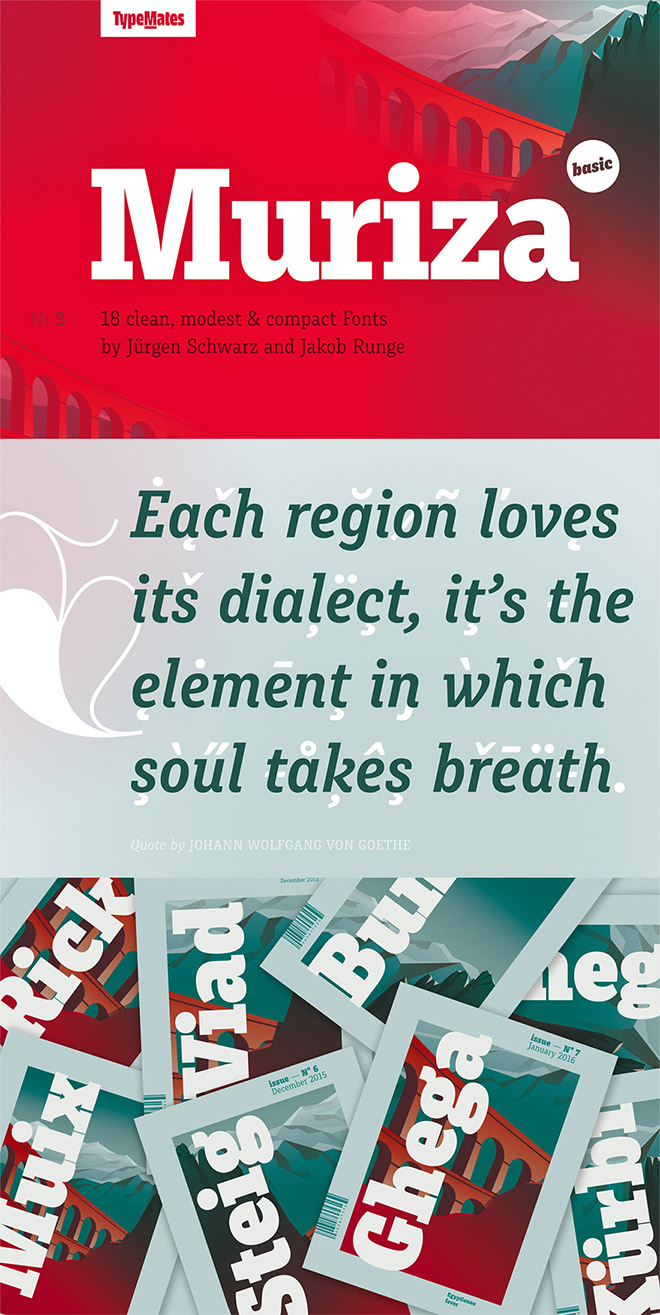 Qanelas Soft
Qanelas Soft is a modern sans-serif with a geometric touch. It comes in 20 weights, 10 uprights and its matching italics. Each weight includes alternate characters, fractions, extended language support, arrows, ligatures and more.

Alasar
Alasar is a simple and clean headline font family designed for magazines, newspapers, and general editorial design. It includes four weights which make it easy to set up a clear visual hierarchy in your typography.

Avaline Script Family
Avaline is a smart script font that is 100% handmade. Its playful letterforms come in Light, Regular, Bold and a bonus style named Avaline Sketch. The OpenType features maximise the hand drawn look by providing 3 variations of every single character.
Directors Gothic
Directors Gothic is inspired by the Art Deco movement of the 1930s and was designed for use in advertising headlines and smart corporate materials. It includes automatic fractions, ordinals and an impressive assortment of alternate OpenType characters.
Bookeyed Martin
Bookeyed Martin is a quirky hand drawn font created with an old fashioned dip pen and sepia ink. Its OpenType features include juicy alternates, ligatures, roman numerals, arabic numbers and extra glyphs to pimp out your project.
Snackbar
Snackbar is a fresh and tasty hand lettered script that comes in Regular, Wide and Skinny styles, each with Light and Bold variants plus italics. Also included is a range of additional graphics and patterns resources.
Local Brewery Script & Sans
Local Brewery is a vintage inspired duo of script and sans-serif fonts, both hand drawn with a rough edge. Both fonts perfectly complement each other and work exceptionally well together when used within logos and typographic designs.
Boutique Script
Boutique Script is a fun and kitschy homage to the hand lettering of boutique shops. It comes with a comprehensive collection of resources, including 62 Photoshop Styles of watercolour, foils and faux ink textures to help you create realistic hand crafted effects.
Bloomsbury
Bloomsbury is a hand drawn typeface with 3 styles, Script, Sans and Serif. Used in combination with each other, this font creates awesome type for album covers, posters, packaging and more.
Amelia Script
Amelia Script is a new modern calligraphy typeface with more than 150 end-swashes that perfectly connect each letter. All the OpenType features work automatically to apply the contextual alternates, discretionary ligatures and swashes.

Sabotaged
Sabotaged is a hand scratched font that will tear through your text with energy and power. It's perfect for logos, branding and packaging, or any text which needs a heavy dose of hulk mode! The full set of uppercase, lowercase and a selection of alternates and ligatures gives you full freedom to create custom type.

MB Empire
MB Empire has its roots in 20th century design. It has a distinctly English feel with its style references to the classic Gill Sans. It comes in 6 weights with italics, plus oldstyle figures, automatic fractions, ligatures and stylistic alternates.
Argon
Argon is a unique typeface with a sporty, modern, adventurous edge. It's made for giving titles and extra punch with a full set of capitals, numbers and punctuation.
Globa
Globa is a low contrast round typeface that resembles American sign painting with a playful and friendly personality. The Globa family is composed of 9 different weights ranging from Thin to Extra Black plus a full set of dingbats.

The Hand
The Hand is a generic, readable and balanced hand written font that comes in all-caps with 5 weights and alternates. Also included is a regular dotted version so you can vary your effects and create interesting typography.
Vanilla Shot
Vanilla Shot is a smooth script family with 2 weights and an ornament set. Its has roots in commercial American sign painting from the 50s and 60s and includes swashes, alternates and an extra set of block letters under small caps to support the script.
Yorkshire
Yorkshire is a beautiful brush script created with pen and brush to give a great contrast between think and think curves. It was drawn, scanned and vectorized from paper to screen to create an authentic brush typeface leaving the texture and imperfections the way they really are.

Hello Lucky
Hello Lucky is a cheeky dry marker font with an inky complementary font and oodles of decorative ornaments. It has standard ligatures included to give the font a more natural, scripted look wherever there's any double letters in your designs.
Flabbergast
Flabbergast is a high contrast didone font for headlines with wide language support. Originally only designed in one weight, it was extended with even heavier verticals and an added bold variant.

All 20 font families with 200+ fonts for $29
The wealth of OpenType features every one of these fonts includes shows just how superior the quality of font families is compared to standard freebies you might find on the web. The extensive variety of different weights and styles brings the total font count over 220, making this bundle incredible value for money. The 98% discount makes it a great opportunity to refresh your font library with some professional tools that your future design projects will benefit from for years to come. Check out the full bundle overview to see each font in detail and learn more about the full extended licensing included as part of the deal.