Yesterday I sent out a quick email in anticipation of a new design resources marketplace from Design Cuts. The marketplace is now live and it's looking fantastic! It's already filled with some of the best resources around and there's plenty more to be added over the coming months. The focus on quality over quantity makes it the place to go to quickly find the best assets for your projects, without having to tediously search through hundreds of unsuitable products. To celebrate the launch, I'm collaborating with the Design Cuts team to offer Spoon Graphics readers some great prizes. Do you fancy getting your hands on a lifetime Access All Areas membership, hundreds of dollars of Design Cuts gift vouchers, or the star prize of a professional grade Wacom Graphics Tablet? Read on to find out how to add your name to the prize draw.
The Design Cuts Marketplace is Now Live!
Finding the perfect design resources for your projects can be overwhelming with all the current marketplaces being packed full of thousands of items. The new Design Cuts marketplace eliminates your search time by selecting only the best quality items from the most talented creators who are renowned for their style in each genre. Let's say you need to produce a realistic gold effect. You could spend hours sifting through endless similar-looking products, or you can head to the Design Cuts Marketplace and instantly find Instaglam by Creators Couture, which is the leading gold/glitz pack on the market. No more confusion, simply the best possible product for your needs.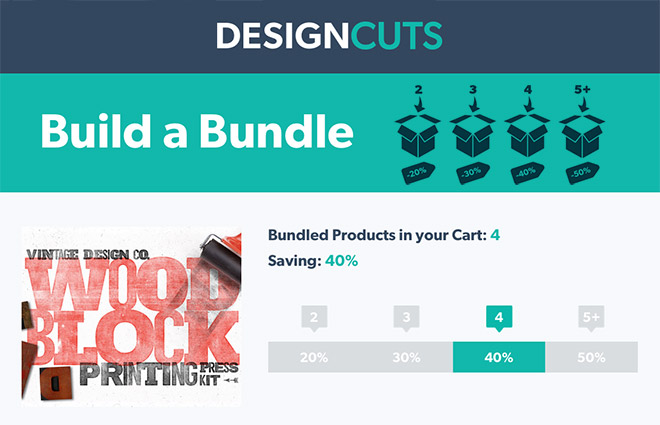 Design Cuts have a track record of collating only the very best products in their design bundles and slashing the price with massive discounts, which myself and many of my readers have benefited from over recent years. The second game changing feature of their new marketplace is the ability to build your own bundle of the resources you want. Add your favourite items from the already curated selection of the best products to build your own unique design bundle and benefit from an increasing discount of up to 50%, something you can't get anywhere else!
Build your own bundle to win some prizes!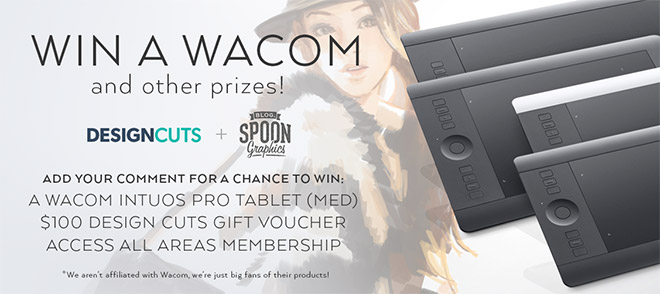 To celebrate the launch of their new marketplace, I'm collaborating with my friends at Design Cuts to offer some exclusive prizes for Spoon Graphics readers. Here's what you can get your hands on:
Top prize (1 winner)
A Wacom Intuos Pro Medium Tablet
$100 Design Cuts Gift Voucher
Lifetime Spoon Graphics Access All Areas membership
Runner up prizes (4 winners)
$29 Design Cuts Gift Voucher
Lifetime Spoon Graphics Access All Areas membership
I think you'll agree these are some great prizes up for grabs. The Wacom Intuos Pro Medium graphics tablet is a serious piece of kit which can transform your illustration abilities. The medium size is the most popular model, which provides ample work area while fitting neatly on your desk and in your laptop bag. It's totally wireless, and features multi-touch gesture support, making it ideal for all types of image editing, graphic design, and art interests.
The Design Cuts gift vouchers can be redeemed on any items within the new marketplace, or used to grab yourself one of the upcoming bundles completely free! Simply redeem the code during checkout to cash in the credit.
All winners will also receive a lifetime Access All Areas membership here on Spoon Graphics, which immediately provides you with 100s of premium resources which grows every week as new items are added.
How to enter
Entering the prize draw is easy! Simply head over to the new Design Cuts marketplace and have a browse through the selection of products currently available. Pick out your top 5 products that you would choose for your dream bundle, then list them in a comment on this post. The 5 winners will be drawn at random in 7 days time (Thursday 25th February at 12pm GMT), so everyone has an equal chance. Remember to use your full name and a valid email address in your comment so we can contact you!
Browse the new Design Cuts Marketplace
The Winners!
Congratulations to all the prize winners Dave, Abel, Dan, Danielle and the star prize winner Simon! I hope your free goodies come in handy.