A great new deal has just landed that will take your font library to new heights while saving you over $3400 in the process! The Essential, Popular Fonts Collection contains 19 premium quality font families in a variety of styles, including serif, sans-serif, slab-serif and script. Every one of them contains a thorough collection of weights and styles, totaling 233 individual fonts to choose between. For a limited time only, you can grab this entire collection with 99% off the regular price, which slashes the cost to just $29. This is the first time you can find all of these incredible fonts available for this kind of discount.
Unfortunately this deal has now expired
Join the mailing list to be the first to hear about awesome offers like this in the future!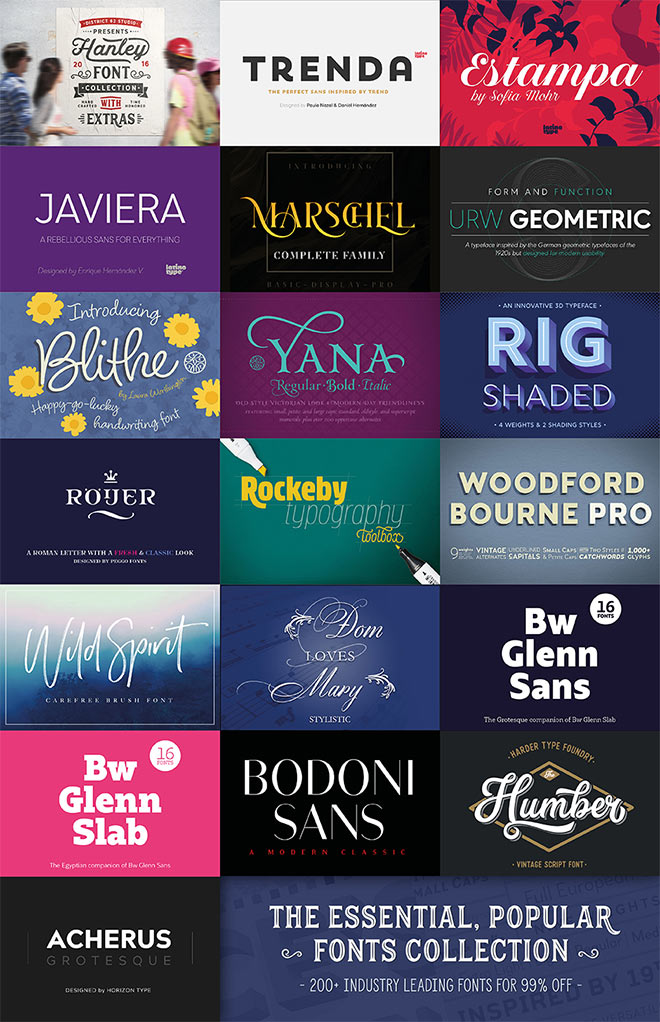 Quality typefaces like these are packed with features that put them in a league above most free fonts available on the web, which is why they each sell for a premium in their own right. Multiple variants, alternate characters and ligatures allow you to totally customise the appearance of your typography, meaning you can use the same font but achieve a different result every time. Your design work will benefit too, with carefully constructed letterforms, perfect kerning and extensive language support, these fonts will equip you for the largest of commercial projects.
Hanley Font Collection

Trenda
Estampa Script
Javiera

Marschel Complete Font Family
URW Geometric Family

Blithe

Yana
Rig Shaded

Roijer
Rockeby Typography Toolbox

Woodford Bourne Pro
Wild Spirit Font
Dom Loves Mary Stylistic Font

Bw Glenn Sans
Bw Glenn Slab

Bodoni Sans

The Humber Font

Acherus Grotesque

$3444 Worth of Pro-Grade Fonts for Just $29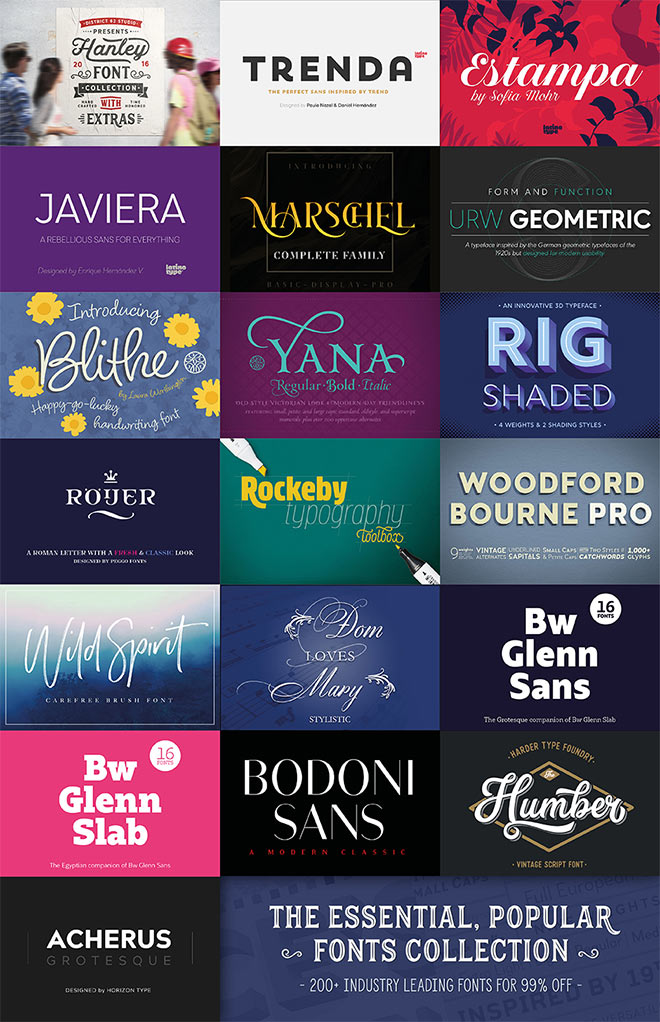 The huge 99% discount is a limited time offer that won't be around for long. Once this deal has expired, these fonts will only be available at their full price individually, so this is a great chance to upgrade your font library with over $3000 worth of professional grade tools. With such variety these fonts will serve you throughout your design career, and even become your go-to font choices. I know from my own experience that typefaces I picked up from bundles years ago are still among my most used fonts!