It has been a while since I last shared any news about deals I'd recommend, but the latest offer from Design Cuts has just landed in my inbox and it's definitely worth checking out! In the past the deals I've featured have been focused on certain types of resources, but this is one big variety pack of everything! The included design resources aren't just random items either, they're all best selling products from the biggest artists on creative resource marketplaces. As always the price is squashed so much it becomes amazing value, this pack contains $876 worth of vectors, textures, brushes, actions and stock photos for $29. These are some of the items that quickly persuaded me to pick it up:
Unfortunately this deal has now expired
Join the mailing list to be the first to hear about awesome offers like this in the future!
SuperGrain from RetroSupply Co
I was actually eyeing up Dustin's new SuperGrain kit on his RetroSupply store just yesterday, so I couldn't believe my luck when it turned up in this bundle alongside all the other goodies. SuperGrain is a clever Photoshop document that takes all the work out of texturing your logos and typography illustrations. Just paste in your art and configure the various layers to create ultra cool vintage style effects.
Inkwell by Vintage Design Co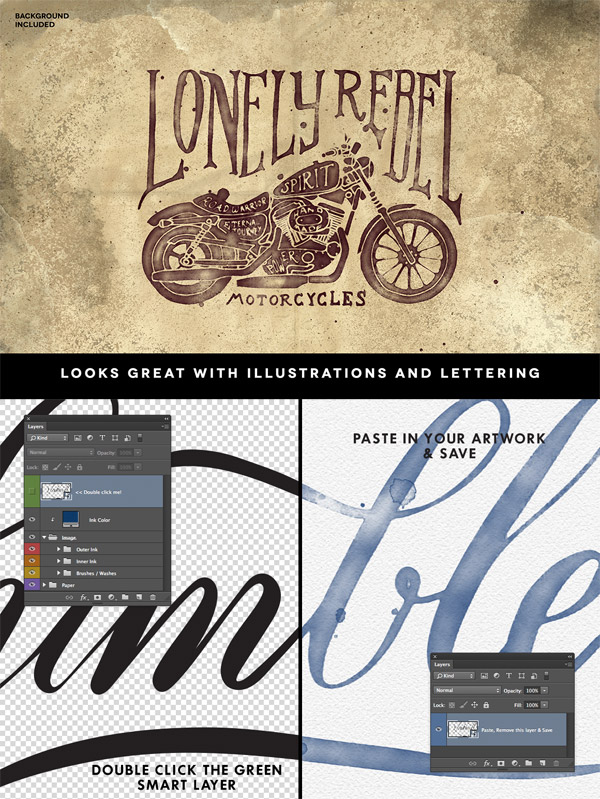 Inkwell from Ian Barnard's Vintage Design Co is another awesome effects PSD, this one replicates really realistic watercolour or hand inked illustrations by just pasting in your artwork. I've always loved typography illustrations in this style and it's now easy to make them yourself without the mess of cleaning your brushes!
Seaworthy Typeface by Make Media Co
Out of all the previous deals I picked up, the fonts bundles are by far the ones I've made use of the most so I'm keen to grab any additional premium fonts I can! The Seaworthy typeface from Callie Hegstrom's Make Media Co looks really sweet with its nautical theme. I especially like the inclusion of the 80 vector graphics, it's always handy to have a few anchor graphics available in your designer's toolkit!
Loads more resources too!
Just these three items that I especially fancied already totals to double the cost of the deal, and that's not even considering the 1000s of other elements that are also included. I'd definitely recommend checking out the full overview of what's on offer to see what takes your fancy. There's some lovely vectors, fonts and textures I'm sure I'll find a use for in my future projects. Remember, all these items come with an extended license so you can use them in your commercial projects and within artwork you intend to sell, like poster prints or t-shirt designs.