You don't have to be a coding nerd to be able to build your own online design portfolio. There's a bunch of handy sites and communities out there that are allowing designers to showcase their work and flourish with with work requests. Here's 10 solutions to easily create an online portfolio of your own, giving you the platform to showcase your work to the world.
Krop
Krop's Creative Database is an hosted portfolio solution that allows you to spend your energy promoting your portfolio, not building it! There's a range of brilliant minimalist themes that allow your work to shine. There's two options available, free and premium. The free version is limited to 10 images while the premium version opens up all features for $9.99 a month.
Pros: Popular portfolio site with the handy resource of the Krop job board right next door.
Cons: You're limited to 10 images if you're a cheapskate!
Carbonmade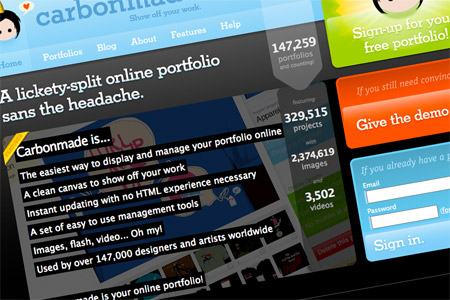 Carbonmade is a lickety-split online portfolio sans the headache, that supports images, flash and video content. Carbonmade is structured as individual projects, allowing you to upload multiple images based around each piece of work you've created. Carbonmade also has a free and premium version, with the free account allowing 5 projects and 35 images, and the premium account at $12.00 per month giving space for 50 projects 500 high-res images.
Pros: Nice Javascript navigation and effects spice up the experience of browsing your portfolio.
Cons: Themes are limited, with an option of a black or white colour scheme.
Coroflot
Coroflot is a fast and easy way to get your portfolio online and in front of the right people. It's free and there's no restrictions on file uploads. What's more, you can network with other members and receive notifications of job offers.
Pros: A great free solution that's not limited in features.
Cons: No options for portfolio layout or style.
Shown'd
Shown'd is a free portfolio solution that helps you connect with employers and includes some handy options such as multiple image uploads and the ability to import from Flickr. The option of embedding your showcase in an external web page also opens up some useful doors.
Pros: A free solution with handy features and customisable layouts.
Cons: Not quite as popular as the mainstream portfolio websites and communities.
Behance
Behance is a free platform for the world's leading creative professionals and is home to some of the big names in the creative industries. Behance portfolios are subject to millions of views and is a good source of work for many designers and illustrators.
Pros: Highly popular and well known website, resulting in good exposure for your work.
Cons: Registration is invite only, so you've got to be good!
DeviantArt
DeviantArt is the largest art community in the world. It's a free platform that allows users to display, share and sell their artwork. DeviantArt is a great place to receive feedback and communicate with like minded creatives and can be a handy place to find free resources to use in your own work.
Pros: Well known website that allows unlimited uploads.
Cons: Is seen as more of an art community than a place to find professional portfolios.
Flickr
Flickr is the best online photo management and sharing application in the world and is home to masses of groups, allowing you to share your work and connect with people in specific niches. Flickr is free, but also has additional features available to Pro account holders.
Pros: Huge image sharing application with groups allowing you to put your work in the right places.
Cons: Primarily a website aimed at photography, however images can be marked as art or illustrations.
WooThemes
WooThemes is home to a collection of the finest WordPress themes, including a range of portfolio specific themes. The themes are of premium quality which means there's a cost involved as either a single payment or as a subscription, but this means you'll be ready for hosting your own high quality website in no time.
Pros: Expertly designed WordPress themes, allowing a completely self managed portfolio solution.
Cons: Knowledge of installing and maintaining the WordPress application required.
ThemeForest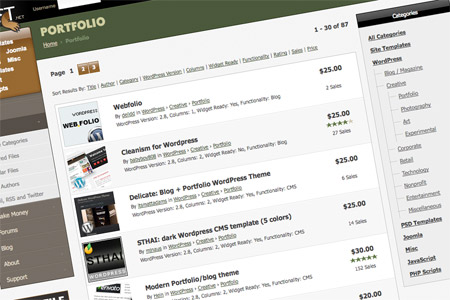 ThemeForest is a marketplace for buying and selling website templates, including themes for popular content management systems such as WordPress. There's a bunch of great looking portfolio templates at highly competitive prices, allowing you to manage your own portfolio website on your very own domain.
Pros: Stacks of website designs and templates for various CMS available.
Cons: Knowledge of installing and maintaining the WordPress application (or ability to update HTML templates) required.
Build Your Own!
If you're into website design, or know a thing or two about HTML and CSS, there's a couple of handy tutorials out there on the net that could help you along with building your own portfolio website from scratch. Why not head over to my recent tutorial for starters? The article covers the process of developing a simple, single page portfolio layout and spicing up the image popups with a readily available jQuery plugin.
Pros: Increases your knowledge of web design while producing a hand crafted portfolio of your own.
Cons: Considerably more knowledge of web design required to construct and maintain, as well as being much more time intensive.