Access All Areas members have a great new resource to download this week courtesy of Mister Retro. Spot Wash Dirt is an easy-to-use Photoshop plug-in that creates professional quality weathering effects to make your images rough, gritty and dirty. A special 'Lite' version has been constructed for Spoon Graphics premium members, with 10 paper textures and 6 exclusive wash textures that don't exist in the regular product. Install the Windows or Mac version of the plug-in to have a range of effects settings at your fingertips through a comprehensive interface.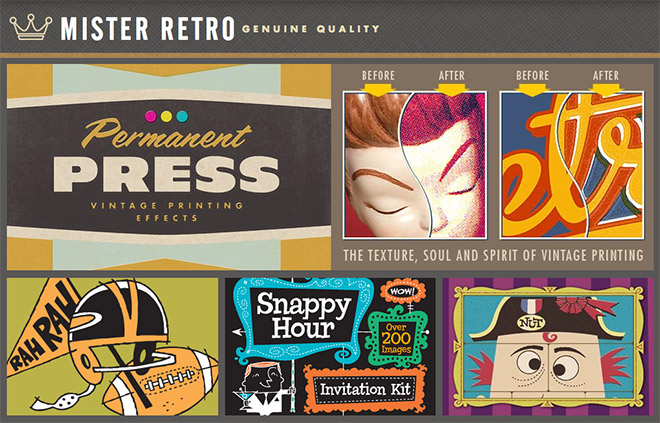 Mister Retro provides the finest retro plug-ins for Adobe Photoshop and Elements to give your images that authentic tactile look as well as snappy retro vector artwork to spice up any graphic design layout. As an authorized Adobe plug-in developer, their products have been fully tested and are compatible with all versions from Photoshop CS2 to CC.
Find out more about Mister Retro
Spot Wash Dirt Plug-In for Members

Access All Areas members can now download this special version of the Spot Wash Dirt plug-in as part of their membership. Once the plug-in is installed, your artwork can be distressed with loads of built-in textures to produce the popular aged look. A wide range of options can be configured to find the exact result you need through the easy-to-use interface. Fully customise the wash, coverage, edge, offset and paper settings to generate unique effects every time.
How to use the plugin
The download file contains two separate ZIP archives, one is an installer for Mac and the other for Windows. Extract the file that is applicable to your system, the following the installation procedure. The effects can then be accessed via the Filter > Mister Retro menu in Photoshop. For more information about the product, the user manual is a great place to find detailed explanations of all the settings and features.