Authentic linocut and woodcut illustrations require a variety of specialist tools, patience and skill, but there's a way to have fun producing similar artwork styles but with the safety net of the Undo button. My set of 25 brushes for Adobe Illustrator helps you carve your own designs digitally while achieving the linocut and woodcut look. Choose from a range of brush shapes, including tapered strokes, texture fills, split brushes and edge shading to construct your illustrations with realistic techniques, but in less time and without the frustration of making a permanent mistake!

OR
Buy 'Linocut & Woodcut Illustrator Brushes' for $10
How to use the Linocut Illustrator Brushes
The Linocut Illustrator Brushes Ai file in the download package can be opened as a brush library from the Brushes panel in Adobe Illustrator. Alternatively, opening the file directly will give you a series of paths with each brush already applied, which can be copied into another document to automatically transfer the brushes into the Brushes panel.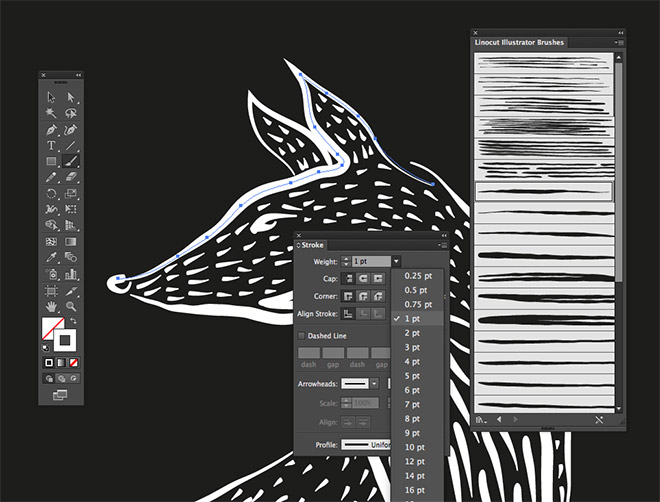 Use the Brush tool to draw your illustrations and select a brush style from the library. A graphics tablet can make the illustration process easier, but since the pressure and tapering effects are built into each brush, the same results can be achieved with a mouse. The Stroke weight can also be used to adjust the size of the brush marks.
Want more? Check out these great related products
The following resources cost a little money, but I definitely recommend checking these related products out to complement my Linocut brushes.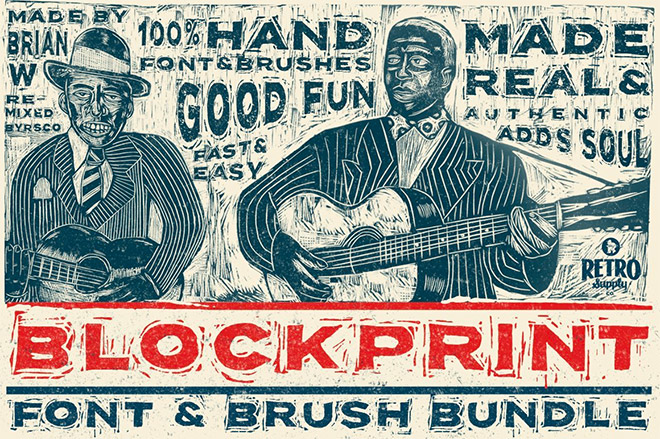 ⭐ Get 20% off at RetroSupply with the code SPOON20

⭐ Get 20% off at RetroSupply with the code SPOON20