A couple of week's ago, I ran a deal on my Access All Areas membership with my friends over at Design Cuts. It was a huge success, with over 1000 of you grabbing the deal and joining the SpoonGraphics community. Design Cuts are currently running a brand new deal on Go Media's Ultimate Vector Collection. The collection includes 1360 of Go Media's most popular vectors for 93% off, and is their biggest vector pack of all time.
Unfortunately this deal has now expired
Join the mailing list to be the first to hear about awesome offers like this in the future!
Go Media vectors are the best in the industry, with incredible hand-drawn detail and inspired designs. I've used them in my own work several times, and am continually impressed by how versatile they are. They're a great way for you to improve the illustratative quality of your work, and can be used in web and print design.
I had to mentioned this bundle before it expires, as there's only 11 hours left before the deal is gone forever. See a preview of all vectors included in this massive deal, and grab it before it expires forever.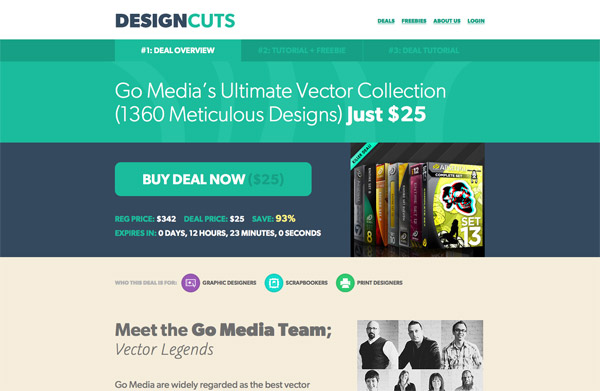 This bundle includes 49 vector packs, containing a total of 1360 amazing vectors. There's so much variety in this collection that you should find a vector set for whatever project you're working on.
Here's what people are saying about the deal:
"I gave into temptation and ordered these – and have already used some of the graphics on day 1. I can envision a lot of uses for these and I think this is an awesome deal. So much of what I typically see is so amateurish but these are professional quality – stuff I can actually USE."

(5/5 Stars) – Pam McClung
"Yet another superb deal. Thanks Design Cuts and Arsenal (Go Media)"

(5/5 Stars) – G Wood
Here are some of my favorite packs from the collection:
Hair Vectors
Stains Vectors
Hand Drawn Skulls Vectors
Download all 1360 Go Media Vectors
These vectors are regularly priced at $342, and for the next 11 hours only are discounted to 25% (that's 93% off). Normally a single Go Media vector pack sells for $17, so to get all 1360 vectors for $25 is a one off chance. This is the only chance to grab this deal before it's gone forever.