In this week's roundup of creative goodness, we have a look at the history of design blogs; a tutorial on how to create seamless patterns; a few everyday lessons in freelancing; an awesome illustrative tutorial; and a fantasy photo manipulation tutorial.
Design blogs have boomed over the past few years, but the idea has been around for years. Pelfusion takes us through history and looks back at how blogs have developed from the late 90's onwards. I'm honoured to see Blog.SpoonGraphics listed as part of the 2007 generation.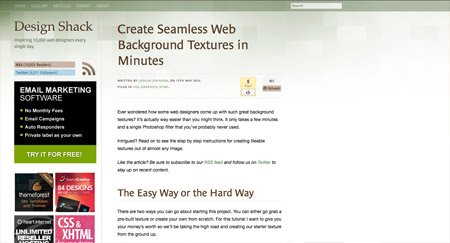 Repeating patterns are always a useful resource, no matter what you're designing for. Design Shack takes us through the process of finding and creating your own seamless background textures in Photoshop.
Despite all the helpful advice from freelancing blogs, you never really learn until you experience the ins and outs of self employment as a designer. John O'Nolan shares some useful hints and tips from the lessons he's learnt over the years.
Anything that combines digital artwork and sketches captures my interest straight away, so this tutorial from Vectortuts was right up my street. Follow the two-part walkthrough on how to create a sweet linework and typography combo.
It's always fun to take a break from everyday design work and have fun with some fantasy artwork. This tutorial from PSDtuts explains how to create a surreal fantasy photo manipulation in Photoshop, using various effects on stock photography.