Coming up in this week's roundup of interesting and useful links is a group interview with a bunch of designers; a showcase of big backgrounds in web design; a huge collection of designers to follow on Twitter; a tutorial on creating a cool glowing effect and a fun post checking out what random things designers carry in their bags.
DesignM.ag
Steven Snell from DesignM.ag recently put together this interesting post combining the thoughts of a bunch of designers (including myself!) on the pursuit of personal projects.
Vandelay Design Blog
Big backgrounds in web design make for an impactful and interesting website design. Check out this collection of some great examples, many of which I personally hadn't seen before.
Mashable
The huge social media blog that is Mashable recently hosted this excellent roundup of active designers on Twitter. The post features 85+ creatives with a short bio and link through to their profiles. Definitely one to browse if you're looking to receive a wealth of links and handy design resources on a daily basis.
Six Revision
Photoshop lighting effects seem to go down pretty well with the readers here on Blog.SpoonGraphics, so I figured you would be interesting in seeing this fantastic article from Six Revisions, titled How to Make a Stylish Glowing Box in Photoshop.
The Design O'Blog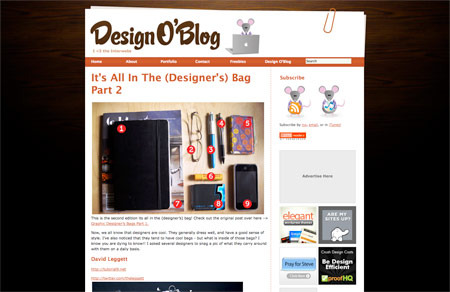 Niki Brown from the Design O'Blog recently posted part two of this fun post, It's All in The (Designer's) Bag. The post shows what random artefacts the creative types carry around with them on a daily basis.