For my first interesting articles roundup of 2009, I have a great selection of posts from Dzine Blog, Lee Munroe, Smashing Magazine and ColorBurned. Topics include a range of web design inspiration and a detailed Illustrator pattern tutorial, check them out!
Dzine Blog
This second half post from Dzine blog showcases a collection of web design inspiration in the form of 25 Websites with Beautiful Backgrounds. Included are some great examples of collage, distressed and grungey design styles.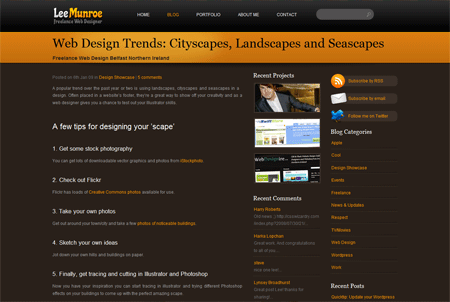 Lee Munroe
Lee Munroe highlights the emergence of a web design trend where Cityscapes, Landscapes and Seascapes make their way into website designs. Lee outlines some tips on creating your own 'scape' inspired design as well as featuring a large collection of inspiring examples.
Smashing Magazine
Continuing with more web design trends and roundups, Steven Snell of Vandelay Design recently authored this excellent post for Smashing Magazine; Textures in Modern Web Design. This epic article not only brings together a huge collection of examples, but goes on to list tutorials and resources for use in your own work.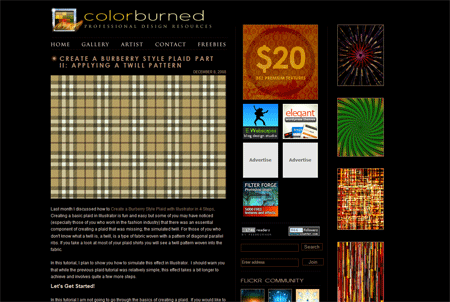 ColorBurned
Following on from the first half of this Adobe Illustrator tutorial, Grant Friedman outlines the steps involved to create this highly detailed plaid pattern. Where part one created the main pattern tile, part two now finishes off the effect with extremely high attention to detail.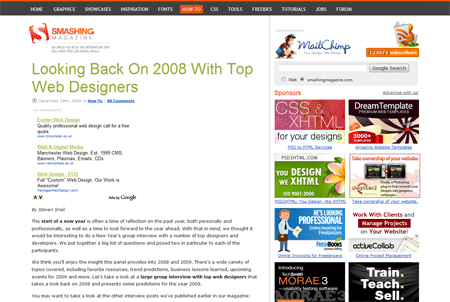 A Look Back on 2008
I had the pleasure of being involved in a group interview over at Smashing Magazine late last year, where I present some of my opinions alongside some big names in the web design industry.