This week I've been enjoying a range of articles from various design blogs across the web. A few picks that caught my fancy include an awesome Photoshop tutorial, a roundup of cool brochure designs, a collection of typography tips, a compilation of design resources and some intricate vector freebies.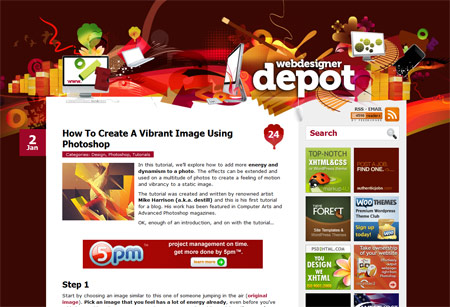 Web Designer Depot
I also featured Web Designer Depot in the last links roundup, this time after digging a little deeper into the archives I found this great looking tutorial that covers the process of Creating a Vibrant Image Using Photoshop. The author, Mike Harrison shows how various shapes can be combined to produce an abstract illustration.
You The Designer
Print design has always been a great place to head for some design inspiration. Gino from You The Designer has compiled this roundup of 18 Beatiful Brochure Design Samples, check them out for some grid-based goodness!
Spoonfed Design
Continuing with the print theme, Spoonfed Design also has a collection of useful tips and techniques on the form of 11 Essential Tips for Good Print Typography. The article covers some great points on alignment to the grid, hierarchy and white space as well as some awesome examples spread throughout the page.
1st Web Designer
Dainis Graveris from 1st Web Designer has put together this epic roundup of 70 Hand Drawing Style Resources. The post includes an indispensable list of free brushes, textures, icons and tutorials for creating low-fi, hand drawn artwork. If, like me you're a big fan of this style this post is definitely worth a bookmark.
GoMediaZine
GoMedia also seem to appear time and time again in my favourite roundups, which just goes to show the level of expertise they put across in their tutorials and freebies. Their latest vector pack, the Hand Drawn Wings collection features some intricate illustrations. After checking out the premium pack myself I can confirm the quality is top notch.
A free sample of the wings are also available on their blog.
Colorburned
I had the great opportunity of being interviewed by fellow design blogger Grant Friedman on his design blog, Colorburned. In the articles I chat about the growth of Blog.SpoonGraphics and my views on self-taught vs. education amongst many other topics. If you fancy checking out my ramblings, along with the wealth of Illustrator knowledge and tutorials from Grant, head over to Colorburned.com.