Thinking of building your portfolio? Grab a .design domain name for your website and email address and get the first year free with this special offer from Porkbun. A .design domain name is just like .com and .net but it is much more relevant to what you do as a designer, making it ideal for building a memorable brand and showcasing your work. The .design domain name is fairly new, so there are still plenty of short .design names available. Claim your own .design domain name, before it's gone!
This is a sponsored post. Find out what that means for you and me.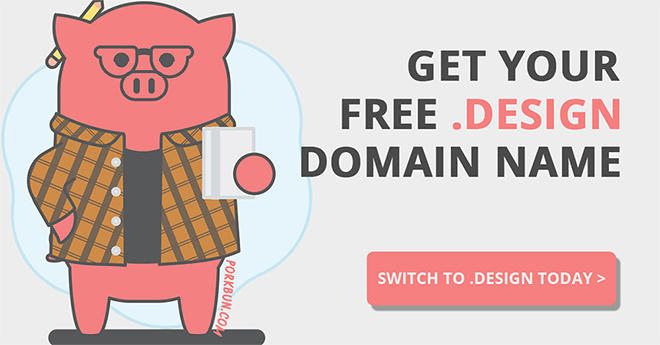 If your business already contains the world 'Design', this offer also provides a great opportunity to shorten your existing branding (ie: johnsmithdesign.com to johnsmith.design), providing a concise and catchy URL and unique email address. I have teamed up with Porkbun to offer all Spoon Graphics readers a free .design domain name. The first year is free, and yearly renewals will be less than $35 / year, instead of the $70 offered at some registrars.
Your .design name comes with:
Free Site Builder
Create a beautiful site in hours with your own Weebly-powered Site Builder.
Free Email Hosting
Create a professional, coordinating email address.
Free Whois Privacy
Keep your private information hidden from prying eyes with WHOIS privacy.
Free SSL Certificates
Security is important. Keep your domain name and website safe.
How to get your FREE .design Domain
Click to claim & search for your domain name
Click the pink + icon on the desired domain
Click the checkout button & complete the checkout process.
*This offer does not apply to premium names