We all love having a vast library of quality fonts to work with, but they can often be far too expensive for the average designer to afford. While the high price tags do justify the quality and craftsmanship that goes into premium typefaces, the total soon adds up when you're trying to establish a varied collection. This brand new Design Cuts bundle brings you a range of the best-selling fonts from a select group of hugely respected type foundries. The massive 99% discount brings the $3422 cost down to just $29 for a limited time, making it an ideal opportunity to upgrade your font library while saving a fortune!
Unfortunately this deal has now expired
Join the mailing list to be the first to hear about awesome offers like this in the future!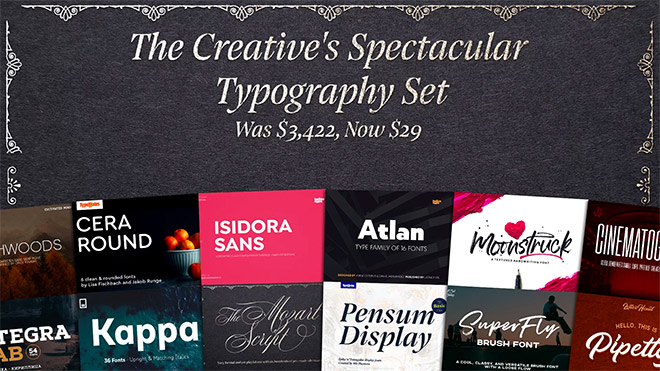 The Creative's Spectacular Typography Set is the complete font solution, featuring a huge variety of styles at a never-seen-before price. Each family includes a wide range of supporting weights, giving you the ultimate creative choice. Details such as the kerning, baselines and letterforms have been meticulously refined, by some of the font industry's biggest foundries. Enjoy a huge array of language support as well as tons of creative extras.