As commercial designers we often have to create various graphic styles on demand in all the projects we work on throughout the day. Being able to experiment with new looks keeps the job exciting, but it can be a challenge, especially when deadlines loom! Having a selection of tools at your disposal allows you to rise to those challenges and confidently explore new aesthetics within your work. If you want to expand your own toolkit with some of the best creative tools in the world, I highly recommend you check out the new bundle on offer at Design Cuts. It's a collection of best selling design resource products that cover a range of themes, including pre-made illustrations, brushes, effects packs and graphics. At 98% off it's incredible value at just $29; a fraction of the $1,478 regular price this compilation is worth. With full Extended Licensing included for each product, it's ideal for creatives in the design industry.
Unfortunately this deal has now expired
Join the mailing list to be the first to hear about awesome offers like this in the future!
Do these similar products interest you instead?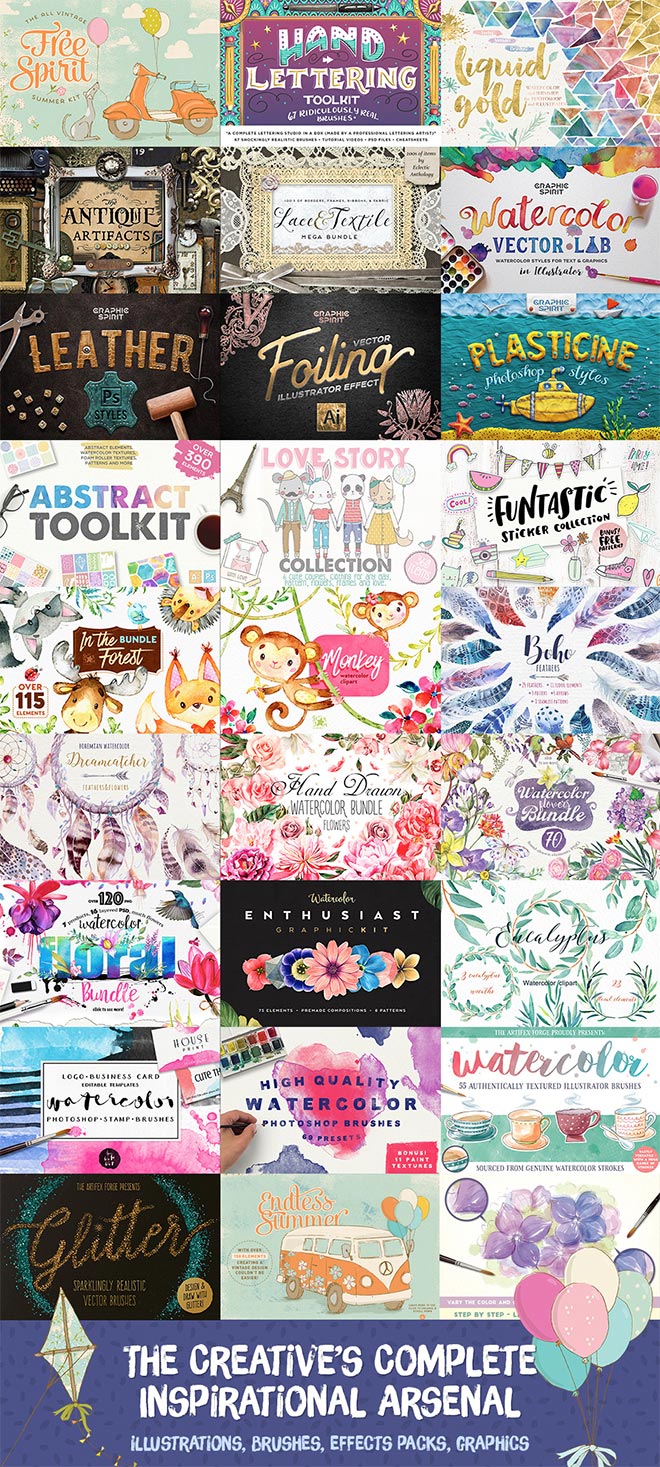 The items included in The Creative's Complete Inspirational Arsenal provide you with the assets and tools you need to create all those design styles you love, such as watercolour art, quaint character illustrations and foil print effects. Each individual product is a thorough set of tools that provides you with everything you need to master that particular style, so with a total of 27 packs included in the entire bundle there's enough content to serve you in your projects for years to come!
These best selling products often cost more than the entire bundle when they're purchased individually, but the 98% discount slashes the price of the full collection to just $29 and even includes the best licensing terms you can get. Obviously such massive deals can't last forever, so be sure to take the opportunity to save this range of graphic resources to your own arsenal before the offer ends.