Mockup Templates help bridge the gap between digital artwork and printed products by simulating how your designs would look in the real world, which helps put your work in context. This new All-Encompassing Collection contains templates for all of the stationery items that you can possibly think of, and even large-scale billboards and buses. This bundle also contains a number of extensive scene generators, which allow you to build a whole environment around your designs to present it in the most effective way. With 99% off the total $2694 value, it's a truly incredible offer at just $29!
Unfortunately this deal has now expired
Join the mailing list to be the first to hear about awesome offers like this in the future!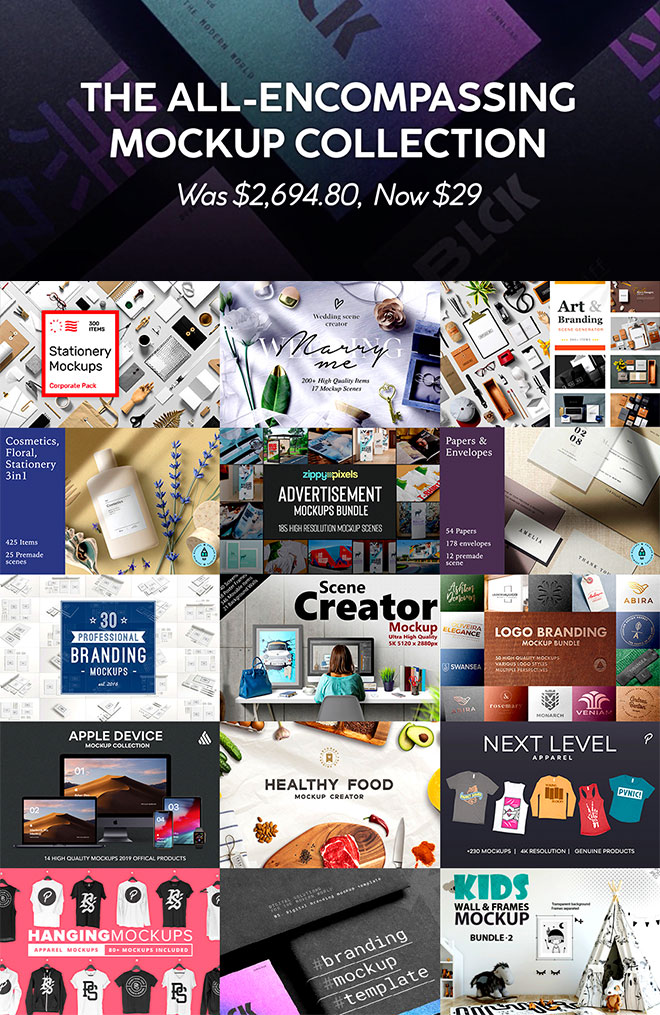 Mockup templates are wonderful resources that allow you to simulate how your design would look when applied to various types of objects, such as a professional prints, manufactured packaging, or positioned in situ with other complementary objects. The results are so realistic that it's unbelievable how easy they are to work with, just paste in your artwork and the rest is done automatically in seconds! Clients are always impressed with strong visual presentations and mocked up designs in your portfolio have considerably higher engagement than a basic flat image. These templates also save you a fortune by eliminating the need for expensive photoshoots! This collection provides you with countless settings instantly, including some that would be extremely difficult to source.
This incredible deal bags you loads of best-selling, versatile mockup templates and scene creators at an unbelievable 99% discount, which strips the total value right back to just $29. This deal won't be around for long and when it expires, it will be gone forever, but the resources will serve you for years to come.