Halftone screen patterns are a key ingredient of retro design, but it can be difficult to find or create realistic screentone style resources. Photoshop and Illustrator can produce halftone effects, but the result is a series of perfectly formed circles which don't look very antique at all and fail to capture that grungy rock poster vibe. I've manually created a collection of distressed halftone patterns by hand to achieve that authentic printed appearance. There's 12 patterns in total, each varying in dot size and density to provide a range of texturing resources.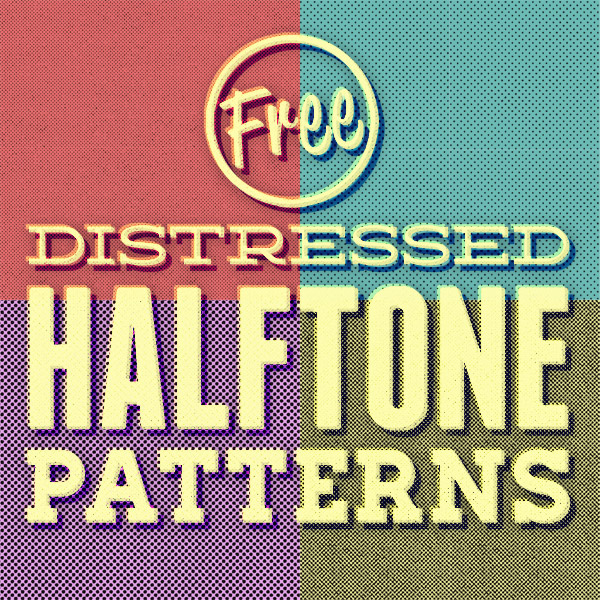 Halftone screen patterns are the perfect type of texture to replicate the characteristics of old hand printed posters. Overlay the pattern over portions of your design or illustration work to instantly add retro style shading and screen print effects. All these halftone textures are created manually to capture that old distressed feel.
This free pack of halftone effects contains 12 patterns as both 1000px texture files and repeating swatches in the form of a Photoshop .pat file. Each pattern has different dot size and density so you can choose from light subtle texturing to harsh heavy shading.
How to use the halftone patterns
The repeating pattern swatches are all contained in a Photoshop .pat file. Select the Fill tool and change the drop down menu in the header from 'Foreground' to 'Pattern'. Select the 'Load Patterns' option from the flyout menu and navigate to the .pat file. These patterns can then be applied directly to your designs with the Fill tool.
Each pattern is also available as a handy PNG image that can be pasted into your design document and used as a typical texture file. Invert the file to choose between black and white dots then alter the blending mode to Multiply or Screen to render the background transparent. Clip the texture to specific areas of your illustrations to add cool comic book style shading effects.
Download the free halftone patterns
This set of distressed halftone pattern textures is free to everyone. Download and Unzip the archive to access the folder of patterns and texture files. If you find these resources useful, the best way to say thanks is to help spread the word on Twitter, Facebook, Pinterest etc. I hope you enjoy them!
Download the distressed halftone patterns 3mb
Want more? Check out these great related products
The following resources cost a little money, but I definitely recommend checking these related products out to complement my Distressed Halftone Patterns.