I've put more time into this new collection of texture resources than ever before, but I'm happy to give them away to my readers for free! I've been busy painting, scrunching and distressing pieces of fabric to produce a range of surface textures that mimic the appearance of old aged t-shirts with faded prints. These 9 digital textures help you to transform your clean artwork into retro style graphics with realistic distressing where the ink has flaked away from being washed and worn over many years.
My free Washed & Worn aged t-shirt effect texture collection contains 9 images, each with a unique natural distressed appearance. At a huge 4500x3000px 300ppi resolution they can even be used to create realistic aged effects in your apparel design projects, where 'Direct to Garment' printing can replicate that same vintage aesthetic as your favourite old t-shirt, but with the texturing digitally applied straight to the artwork.
How to Use the Washed & Worn Textures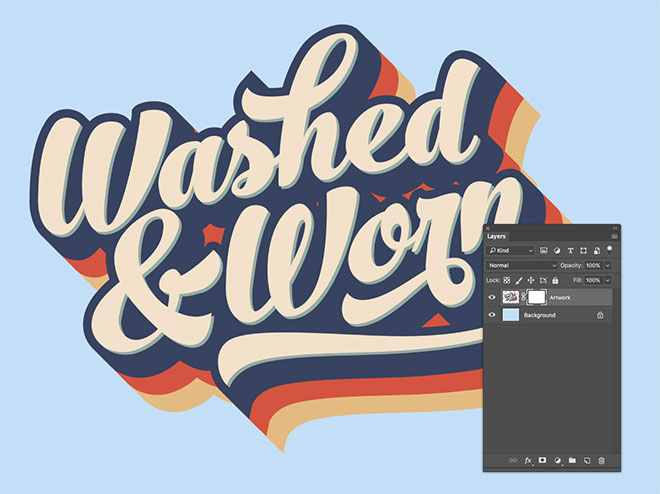 My preferred technique for using image textures is with the help of a Layer Mask in Adobe Photoshop. It non-destructively erases your artwork, so you can revert back or adjust the texture if you ever need to. Click the layer mask icon at the bottom of the Layers panel to add a mask to your artwork layer.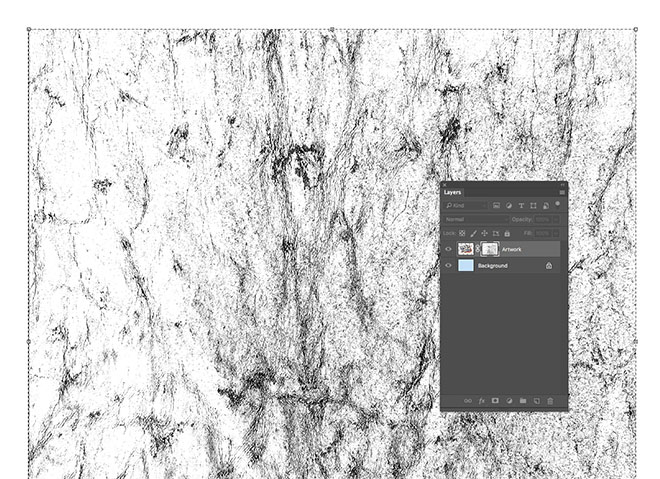 Choose one of the textures and open it in Photoshop. Select All (CMD+A) and Copy (CMD+C), then close the image to return back to your main document. Hold the ALT key and click on the layer mask thumbnail in the Layers panel to edit the mask contents directly. Paste (CMD+V) in the texture, then scale it to size and adjust its position.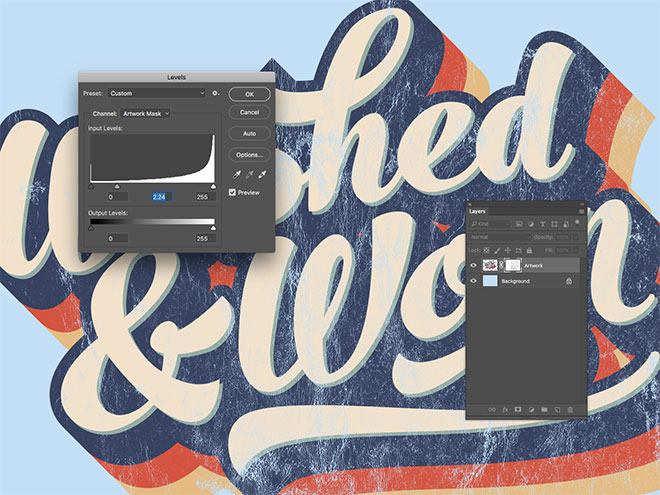 Click on the layer thumbnail to exit out of the mask to see the texturing being applied to your artwork. You can adjust the strength of the effect by altering the Levels of the texture. Select the mask thumbnail in the Layers panel, then press CMD+L to open the Levels window. Adjust the shadows, midtones and highlights sliders to change the contrast of the texture.
Download my Free Washed & Worn T-Shirt Textures
Want more? Check out my Washed & Worn DELUXE textures pack
Based on my most popular download on Spoon Graphics—the original Washed & Worn textures pack—this new product is bigger and better with double the number of textures at twice the size, providing a much greater level of detail for adding realistic vintage T-Shirt effects to your designs. With 17 super-high-resolution JPG and PNG files, all with a unique texture, you can transform your clean designs into retro-style t-shirts with faded prints.