I receive requests for design resources for the Affinity creative software more and more frequently from Spoon Graphics subscribers. While I haven't found the time to tempt myself to migrate over from the Adobe apps just yet, I have tried to source as many Affinity tools as possible from creative experts who do use this great Adobe-alternative software to share as part of the Access All Areas membership on Spoon Graphics. For those wanting more, this roundup should provide plenty of assets for Affinity users to explore. I have searched for the biggest and best collections of design resources made specifically for Affinity Designer. These are the best value products currently available!

⭐ Get 20% off at RetroSupply with the code SPOON20
This great value bundle from RetroSupply contains all of their Affinity products in one discounted collection. There's halftones, inking pens, distressed textures, print textures, glitch effects, comic book halftones, and more! Get an extra 20% off with the code SPOON20.
Jeremy from The Artifex Forge produces some of the best toolkits for creating specific artistic effects. This bundle combines all $239 worth of individual Affinity products and provides a saving of 67%. Across the 14 sets there's a total of 734 brushes!
If you want to add distressed texturing, halftones, and aged print effects to your illustrations, look no further than the fantastic tools from True Grit Texture Supply. The Everything Bundle saves you 40% off every product. Alongside the Affinity package, you can also pick up those same tools for Illustrator, Photoshop, or Procreate.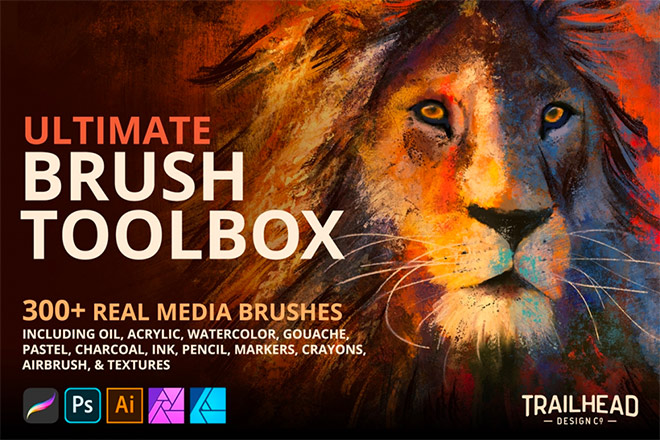 This huge brush toolbox by Trailhead Design Co. is the one and only set of brushes you'll ever need! It contains 300+ real media brushes for creating various artistic styles. What's more, this collection also includes the same brushes for Photoshop, Illustrator, and Procreate, which is ideal if you hop between different creative software.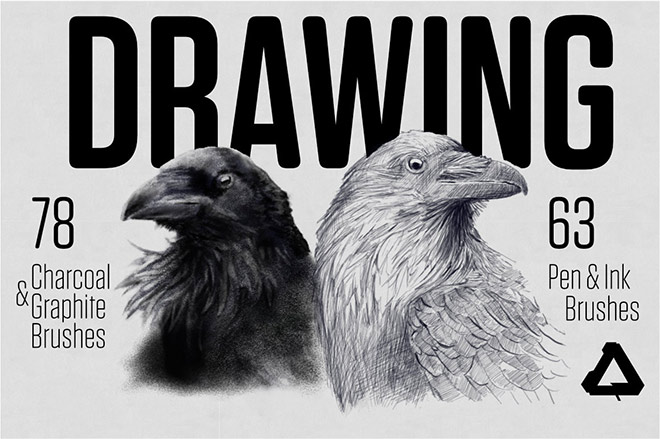 Jef Brown's Drawing Brushes For Affinity product is the largest collection of brushes in a single pack. It contains 78 charcoal and graphite brushes along with 63 pen and ink brushes to provide a thorough set of drawing tools. These brushes make use of both the raster and vector capabilities of Affinity.
As we explore other individual brush collections for Affinity, the following sets of brushes by Jef Brown replicate a variety of real artistic media. These watercolour brushes are pressure sensitive when used with a tablet or Apple Pencil, which helps them to behave and feel just like real watercolour paints, making them a joy to use!
Jef Brown's range of Affinity tools continues with this set of Oil Paint brushes. These brushes are created from real media to simulate the feel of rich, buttery oil paint. Designed specifically for Affinity, they're a must-have tool for digital artists and illustrators.
Alongside watercolour and oil paint brush sets, of course Jef Brown also offers a collection of acrylic brushes for Affinity Designer. 31 brushes are included, each with a unique pressure profile and crisp edge effects.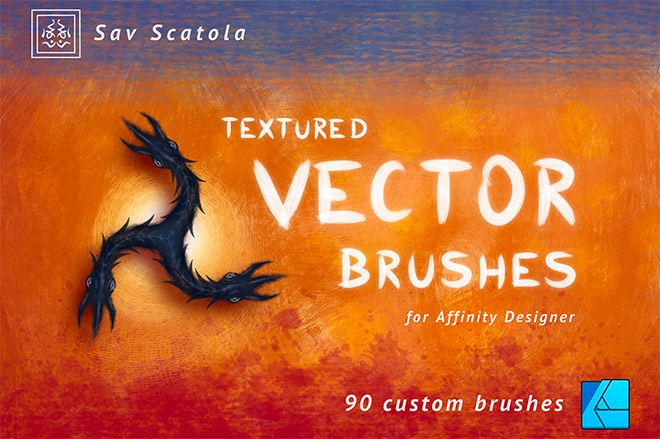 Unlike the hard outlines of vector brushes in other creative software, Affinity has a unique engine that allows artists to work with a more textured, painterly style. This large collection from Sav Scatola contains 90 textured vector brushes which allow creatives to seamlessly layer textured strokes, or simply paint complete non-destructive masterpieces.
Brushes don't always have to replicate painterly brush stroke styles. This Lighthouse kit by Pixel Buddha combines fine liner brushes with a variety of ready-made seamless pattern graphics to create intricate doodle and sketch illustrations.
Brushes are often sold as individual packs that produce a certain artistic style, but wouldn't it be nice if there was an all-in-one kit that provided a variety of tools in one collection? The Artista kit combines the essentials of sketch brushes, spray brushes, hatch brushes, texture brushes, pencil brushes, and bonus grunge textures in one large library.
If you want to add gold foil and glitter effects to your lettering artwork in Affinity, look no further than this kit by iPad Calligraphy. It contains all the textures and brushes you need in files that are specifically compatible with Affinity.
Design resources don't have to be available for just one platform. Sometimes the creator takes the time to remaster the tools for various software. This Affinity Ink Brushes product from MiksKS is the Affinity-specific version of the same popular product for Photoshop and Procreate.
Create classical Impressionist and Pointillist style art on iPad, Mac or Windows using this brush pack for Affinity Designer and Affinity Photo by Seamless Team. These brushes have been hand made using real paint, scanned and turned into unique digital brushes. Brushes are colour dynamic, which lets you add depth and texture with ease.
Draw furry and hairy creatures, animals and objects with these colourful dynamic fur brushes! This pack has a huge range of different texture fur brushes: horizontal and vertical brushes that follow brush direction which are great for creating shapes and drawing seamless and natural fur transition from straight lines to curved.
Stipple shading is a classic method for adding textured shading to a pen and ink illustration. It looks incredible, but takes time, patience and a steady hand. Some of us simply don't have those things, but it doesn't mean your illustrations have to be stipples! You can create amazing stipple effects within Affinity Photo or Designer and control the size, spread, and scatter of each brush.
If you're new to Affinity and you want to extend the software with some additional tools, this great set of Fade & Shade brushes is a great first purchase. Not only does it contains 25 useful shading brushes, it also contains a workbook with 3 lettering tutorials to get you started!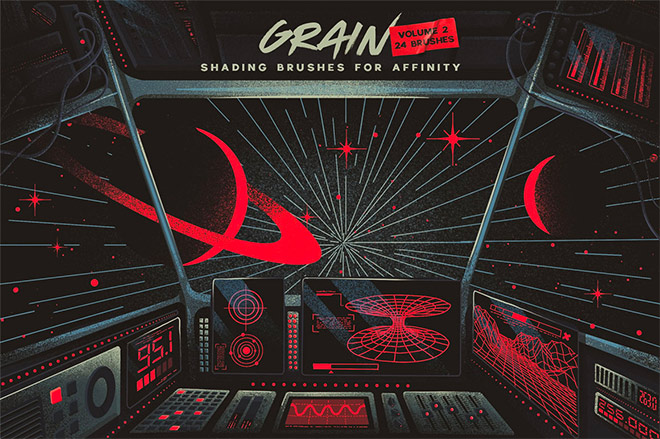 Grain Volume II Affinity Brushes includes 3 different categories of grain brushes: fine, medium and chunky, so you have a range of different textures available. To use these brushes, you will need Affinity Photo or Designer (these brushes will work in the Pixel Persona of Affinity Designer) and a tablet + stylus (the brushes are pressure sensitive).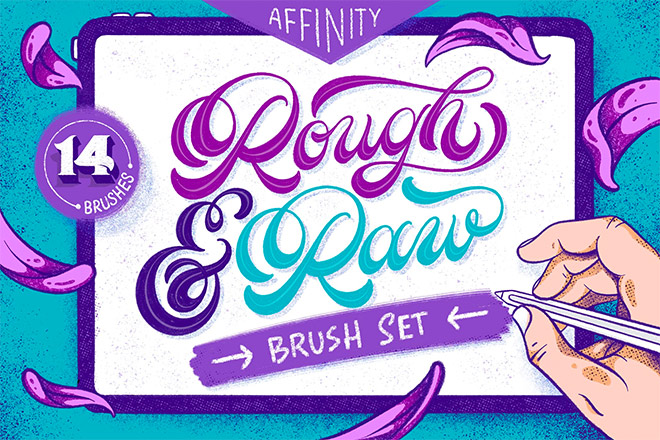 This best-selling Affinity brush set from ShoutBam will help you give a unique handmade touch and a rough edge to your artworks. They work great for creating all kinds of illustrations and especially lettering pieces. Rough & Raw has been divided in two parts – 7 line brushes and 7 texture brushes. With this set you'll be able to go from sketching, inking and adding the final textures smoothly.