Access All Areas members have a brilliant new font to download this week, courtesy of Floodfonts. Pulpo is a friendly and comfortable looking typeface inspired by Century Schoolbook and Clarendon. Longer extenders give the text more room to breathe and improves legibility at small sizes. The family is provided in four styles: Regular, Italic, Bold, and Bolt Italic, which can all be combined and paired together to emphasise certain words and phrases in your text.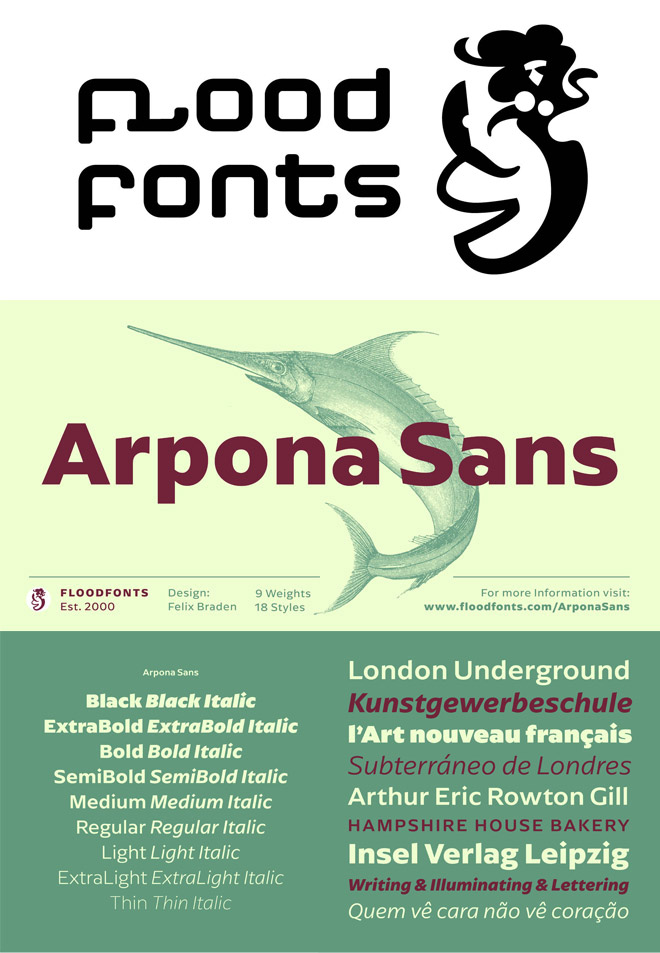 Floodfonts is an independent type foundry based in Cologne, Germany, founded by type designer Felix Braden in the year 2000. His award-winning commercial fonts each contain several weights and styles within the complete font family, making them ideal for professional use. Arpona Sans is the latest release, inspired by the work of Edward Johnston and Eric Gill for London Underground. As well as its serif companion Arpona it is a symbiosis of different design concepts. Arpona Sans combines the aesthetics of a geometric Sans with the usefulness of the humanist concept and the calm of the modernist proportions. The Arpona Sans family has nine weights, ranging from Thin to Black plus corresponding italics. Each style includes 588 glyphs supporting all western-, eastern- and central-European languages including four sets of figures and various currency symbols.
Find out more about Floodfonts
Pulpo Font for Access All Areas Members
Pulpo is a Clarendon style typeface with the skeleton of Century Schoolbook. Its serifs are subtly bracketed, as are selected inner corners. Despite the strength and sturdiness of the design, each letter shape carries warmth and an echo of the human hand. Each cut includes 489 glyphs with four sets of numerals and extended language support to meet the needs of today's communication.