Easily create colourful neon signs with this collection of ready-made neon lights layer styles for Adobe Photoshop. A combination of effects produces a realistic neon tube with a glossy appearance that can be illuminated with a bright glow in a variety of colours. Choose from 15 vivid hues and apply the effect with a single click to transform basic linework into a vibrant neon sign, then finish off your artwork with a choice of 4 backgrounds, 'broken' or 'off' tube styles, plus a useful 'cable' brush to wire up your neon lights!
How to use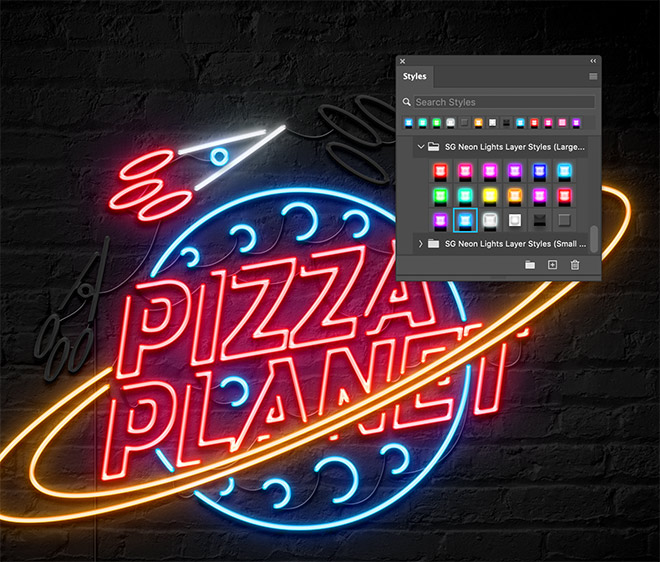 The Neon Lights Layer Styles are supplied in small and large scales, which have been specifically created for 10px or 30px linework. Apply any colour to artwork that has been painted with the brush tool, or text and shapes with a stroked appearance. Note: Layers with a Stroke layer style will first need to be fully rasterized before applying the Neon Lights layer style presets.
While the small and large presets are conveniently sized for 10px or 30px lines, the neon effect can be adjusted to suit any linework by increasing or decreasing the scale of the layer styles. Right-click the effects in the Layers panel and choose Scale Effects.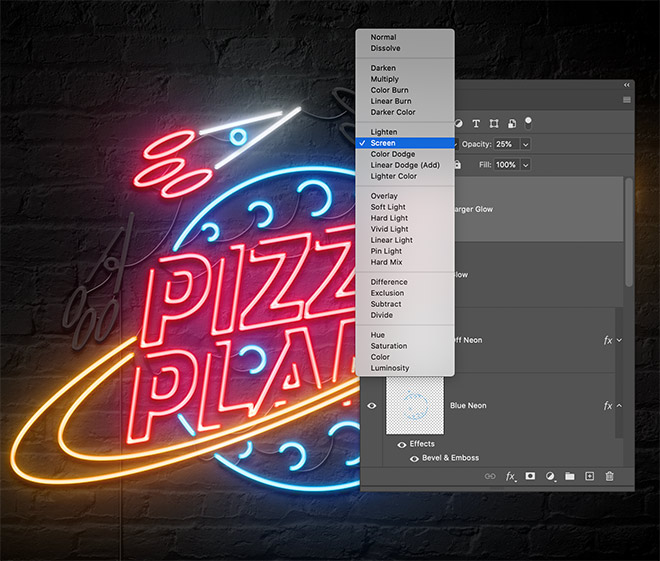 To bring your neon sign to life with additional lighting effects, apply a blur to a merged copy of your artwork, or paint colourful glows onto a new layer with a soft brush. Change this layer to the Screen, Overlay or Hard Light blending modes to turn up the brightness!
OR
Buy 'Neon Lights Photoshop Layer Styles' for $10