Caleb from the amazing texture resource website LostandTaken has kindly put together a special "Layered Grunge" texture pack especially for Access All Areas members. The pack includes six premium texture files that are all made up of multiple images overlaid to create a detailed, high contrast texture file perfect for creating rough and grungy artwork.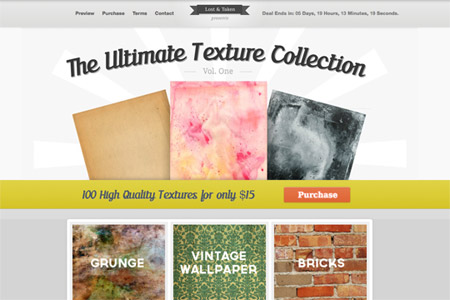 Anyone who follows my tutorials here on Blog.SpoonGraphics has to be familiar with LostandTaken by now, It's the site I use for almost all my texture files. Not only is there a wealth of free texture resources available, but you can also check out the range of super high quality premium textures. Right now LostandTaken is running a special bundle deal named The Ultimate Texture Collection, where 100 textures can be downloaded for just $15.
Layered Grunge texture previews
This pack of premium Layered Grunge textures includes six high resolution image files of various grains, dirt and colours. Use them as a base or an overlay on your own artwork to help achieve that weathered and distressed effect.