Access All Areas members may remember the fantastic Emergency Retro Kit that was kindly donated by RetroSupply Co. If you enjoyed that set of resources you're going to love these latest goodies that have been kindly gifted to members. This VectorSupply pack contains 16 seamless screened halftone vector textures that can be quickly applied as infinite area fills in Illustrator to create awesome aged effects.
RetroSupply Co's mission is to bring the awesomeness of handmade goods to digital design. Their range of products make it easy for designers to add the craft and tradition of retro design to their work via textures, brushes and actions. Check out the full range in the RetroSupply shop, and receive a free Retrostarter kit by signing up for their newsletter. If you fancy getting your hands of any of the other retro goodies, knock 20% off the price with the special code SPOON20.
RetroSupply Co 20% discount code: SPOON20
Vector Halftone Textures for Members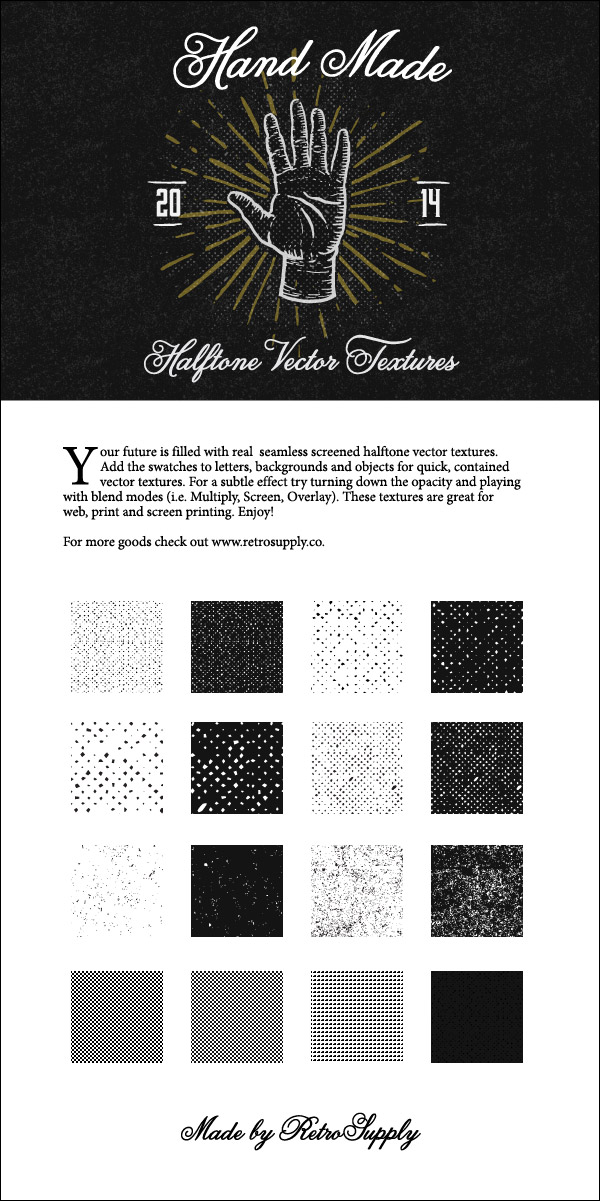 This set vector halftone textures has been created exclusively for Access All Areas members. It contains 16 premium vector swatches that can be seamlessly tiled to generate infinite areas of distressed halftone screen patterns. Each texture is hand crafted from hours of pulling screens and abusing printers to create the most authentic design resource possible.